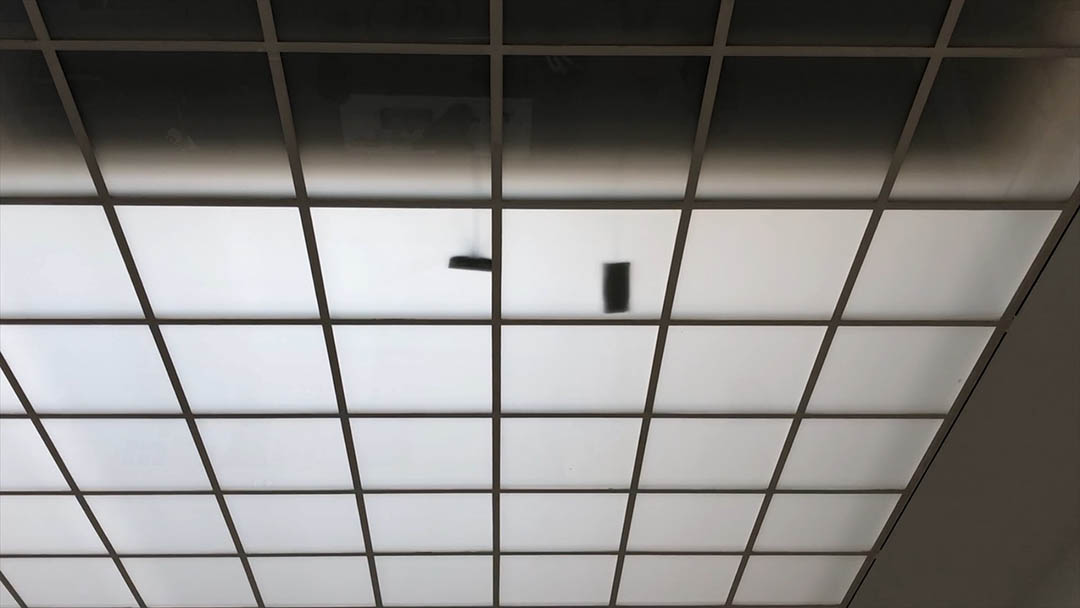 Image credit: Oisín Byrne, still from Why Be An Artist? (after Leigh Hobba and Noel Sheridan), 2022, NCAD Gallery.

EXHIBITION PROGRAMME
'Why be an artist?' (after Leigh Hobba and Noel Sheridan)
NCAD Gallery Exhibition: 2nd December 2022—15th February 2023, Monday—Friday, 11AM—6PM.
NCAD Gallery Holiday Closure 19th Dec 2022—3rd Jan 2023
'Why be an artist?'
(after Leigh Hobba and Noel Sheridan)
An exhibition and film project by Oisín Byrne and Vaari Claffey
with
Kevin Atherton
Isadora Epstein
Gary Farrelly
Leigh Hobba
Séamus Nolan
Grace Weir
Noel Sheridan
The NCAD Gallery is delighted to announce the exhibition and newly commissioned film, 'Why be an artist?' (after Leigh Hobba and Noel Sheridan), 2nd December 2022—15th February 2023. This film - directed by Oisín Byrne and produced by Vaari Claffey - takes as its starting point (artist and late director of the NCAD) Noel Sheridan's performance work, Why be an artist?. In the work, filmed by Leigh Hobba in 1994, Sheridan talks through a series of reasons NOT to be an artist, most of which come down to commitment, integrity and an unwillingness to instrumentalise art.
Knowing that this has great resonance for artists, and bearing in mind that artists are very far from a homogenised or cohesive set of practitioners with shared goals or approaches, this project invites practising visual artists (with varying relationships to Sheridan and NCAD) to respond to Sheridan's provocation on film - using his rhetorical device as a means to explore their own concerns, be they political, social, aesthetic or ecological.
The invited artists; Kevin Atherton, Isadora Epstein, Gary Farrelly, Séamus Nolan and Grace Weir, respond to the work in a variety of registers, both paying homage to and challenging Sheridan's narrative content and performative approach. Starting from this blend of humour and pedagogy, the responses are scripted and performed by the artists and interpreted and staged by the filmmakers to produce an intimate but expanded reflection on artmaking.
Director and Producer Biographical Information ↓
Oisín Byrne (b.1983, IE) is an Irish artist, writer and film-maker based in London. Byrne's work has been exhibited internationally in institutions including Salzburger Kunstverein, Goldsmiths Centre for Contemporary Art, Witte de With Centre for Contemporary Art, the Irish Museum of Modern Art, and Princeton University. Byrne's writing has been published in books by Pilot Press, MA Bibliotheque, Eros Press and Bookworks.
Vaari Claffey (IE) is an independent curator based in Dublin. She has initiated a number of curatorial platforms including Gracelands, Hazelwood Arts and Resistance is Fertile. Her practice involves working closely with artists to stage and produce immersive, experiential projects which aim to produce a particularly dynamic relationship with the audience. These projects range from low-key self-perfomed moments to very large-scale exhibitions and public art commissions. Recent projects include Gracelands at IMMA, 2014, Magnetism at Hazelwood 2015, People's Cinema, Salzburger Kunstverein 2016, Laugh a Defiance in the Hugh Lane and The Comedy Cellar 2016, Refuge in Fauxtopia in the Van Abbe Eindhoven 2018 and I Am The Beat at The Irish Museum of Modern art in 2020. In 2017 she was appointed Public Art Strategist for Southbank Melbourne the first commission for which will be constructed during 2020.
Exhibitors' Biographical Information ↓
Noel Sheridan (IE), 1936–2006, studied at Trinity College, Dublin and Columbia University, New York. He exhibited at the Dawson Gallery in the late 1950s and represented Ireland at the Paris Biennale in 1960. He won the Carroll Prize for Painting at the Living Art Exhibition in Dublin in 1965 and 1969. Sheridan was Director of the Experimental Art Foundation in Adelaide, Australia, from 1975 to 1980, Director of the National College of Art and Design, Dublin from 1980 to 2002, with a four-year hiatus to inaugurate and direct the Perth Institute of Contemporary Arts, Australia. Sheridan was a founding member of Independent Artists, a committee member of Rosc and was elected to Aosdána. In 1994 he won the Emeritus Medal for cultural contribution from the Australia Council for the Arts. A retrospective exhibition of his work was held at the Royal Hibernian Academy in 2001.
Kevin Atherton (IM) was born in the Isle of Man in 1950 and completed his Foundation Studies at the Isle of Man College of Art in 1969 before moving to study in England at the experimental Fine Art course at Leeds Polytechnic. After graduating from Leeds in 1972 he went on to become a part of the pioneering generation of artists in the UK who developed performance and video art in the nineteen-seventies. Atherton taught part time extensively at a number of art schools including the Slade, the Royal College of Art and Middlesex Polytechnic and was Principal Lecturer in charge of Fine Art Media at Chelsea College of Art, where he was also Project Leader of the 'Virtual Reality as a Fine Art Medium Research Project'. Along with his late wife, Vicky Robinson (1950-2005), Atherton moved to Ireland in 1999 to become the inaugural Head of Fine Art Media at the National College of Art and Design (NCAD).
Atherton's public sculptures are sited throughout the UK and Ireland, including the Heritage England 'listed' sculpture 'Platforms Piece' at Brixton Railway Station in South London. He successfully completed his PhD in the Faculty of Visual Culture at NCAD in 2010 and has published his writings with 'Routledge', London and New York and 'Leuven University Press', Leuven, Belgium. He has exhibited and performed throughout the world including at the Museum of Contemporary Art San Francisco, Tate Britain, and the Museum of Modern Art Vienna. In the August of this year he presented his solo retrospective exhibition 'The Return', as a part of the Kilkenny Festival, at the Butler Gallery, Kilkenny. His work is held in a number of public collections including the Irish Museum of Modern Art, the Manx Museum, and the Arts Council of Ireland's Collection.
Isadora Epstein (USA) writes and makes performances from her research of art history and mythology. Her work brings together an ensemble of artists working in visual art, experimental music, and dance. The activities of her practice include three distinct processes: archival research, script writing, and collaborative rehearsals. Her performances are joyful acts of remembrance which offer up the ridiculous fantasy of immortality through the making of temporary fictional worlds.
Living and working in Dublin, Epstein has had performances at Temple Bar Gallery & Studios, RHA, Sirius Art centre, Royal Irish Academy, Ormston House and KuVa Exhibition Lab, Helsinki, and at TULCA. Epstein co-created and performed two award winning shows for the Dublin Fringe Festival Flemish Proverbs, 2015 and Very Rich Hours, 2016. In 2019 she was awarded the Art Council's inaugural Constance de Markievicz Award and recently received a 2021 Agility Award. Epstein is currently developing a new audio project for the National Gallery, and she is a recent recipient of the 2021 Fire Station Artists Studio Digital Media Award.
Gary Farrelly (IE) is an Irish visual artist and educator based in Brussels researching on infrastructure, bureaucracy and architectures of power. Manifestations of the practice include drawings, documents, performances, installations, walking tours and a radio show. In recent years, the main engine of his practice is a bilateral duo called Office for Joint Administrative Intelligence with German artist Chris Dreier. Farrelly studied at NCAD in Dublin and later LUCA School of Arts and A.PASS in Brussels. Exhibitions and performances of his work, both solo and collaborative have been presented at Goldsmiths Center for Contemporary Art (London), Marres Centre for Contemporary culture (Maastricht), Contemporary Art Center (Cincinnati), Centre Wallonie-Bruxelles (Paris), MSURS (Banja Luka), Damien & The Love Guru (Brussels) and Salzburger Kunstverein. He has taught workshops based on his practice at HEAD (Geneva), Goldsmiths (London), Sint Lukas (Brussels) and Moldova's Academy of Music, Theatre and Fine Arts in Chisinau. He currently lectures in the print department at La Cambre ENSAV in Brussels.
Leigh Hobba (AUS) has exhibited extensively since 1976 and is an important practitioner of performance and new media art. His experimental performances and videos were first exhibited at Adelaide's Experimental Art Foundation in the mid 1970s. In 1980 he was selected as Australia's representative at the prestigious Biennale of Paris, Museum of Modern Art. and has continued a national and international exhibition career since then.
Hobba's work has been shown at major Australian galleries including the Art Gallery of New South Wales, ArtSpace, Performance Space, Australian Centre for Photography (Sydney); Queensland Gallery, Institute of Modern Art and Fireworks Gallery in Brisbane; Art Gallery of Western Australian; the Experimental Art Foundation and Festival Centre Gallery in Adelaide; National Gallery of Victoria, Monash University Gallery, Australian Centre for Contemporary Art and Glen Eira Gallery in Melbourne; the Tasmanian Museum and Art Gallery, CAST and Plimsoll Gallery in Tasmanian.
He has exhibited in the Biennale of Sydney and the major bi-annual survey of contemporary practice, Australian Perspecta. Invitations to exhibit overseas include Festival d'automne in Paris; Fotofeiss in Scotland; WRO Art Centre, Wroclaw Poland; Centre International Creation Video, Montbeliard, France; London Video Umbrella; Containers '96 in Copenhagen and Points of Entry in New Zealand.
In 2004 he was one of 6 Australian artists chosen by an Australian Research Council funded University based research team for a curated solo survey show with published monograph. This resulted in a major solo survey show of his work over the last 30 years at the Tasmanian Museum and Art Gallery in 2007. His work explores the potentials of sound and moving image in art practice. Hobba has been active as a writer on New Media with articles on his own work and others appearing in publications such as Island Magazine, ArtLink and Continuum.
Séamus Nolan (IE) artist practice investigates the relative value of objects and social processes as they appear within different economies and contexts. He relates a critique of its own legitimacy, each context and set of concerns is tested against the subject, in an attempt to unravel basic beliefs and inform a process of equivalence. His work is concerned with assembling alternative power relations, energy and possibility, in reconfiguring the everyday as a means to examine or question the purveyors of meaning. Nolan's work often operates in conjunction with local community groups, and invites both a national and international audience to interact on a very personal level with this local activity, with the piece of work itself, and most importantly, with the context of its presentation. Nolan is a curator in residence in the Linenhall arts centre Castlebar. Recent artwork includes Rooftop Squat, Architecture and Activism, The Spare Room Project, Cork; Traveller Collection at the Hugh Lane, Dublin City Gallery and Fourthspace, Inhabiting the Bagieon, Athens, Greece.
Séamus Nolan is currently a doctoral research student at NCAD. He was the recipient of an Irish Research Council Award in 2021 through the School of Visual Culture in the National College of Art and Design, and the School of Art History and Cultural Policy in University College Dublin in conjunction with the Collection Department of the Irish Museum of Modern Art. This award enables Nolan to conduct a practice-based study which examines the role of the contemporary museum in representing marginal cultures with a specific focus on Irish Travellers. Conducted largely through collaborative creative practice with members of the Travelling community the central aims of the research are to create a process and body of knowledge which, through critical engagement, might generate new methodologies towards active and embodied representation.
Grace Weir (IE) is an artist whose work ranges from film and video to photographic, painting, installation or web projects and lecture-performances. One particular area of Weir's work is her unique approach to research, based on encounters with specifics such as certain objects, particular locations and source archives or from conversations with philosophers, scientists or practitioners from other disciplines. She has a particular interest in the way we construct and experience time and space, and the corresponding relationship to our concepts of identity, reality and representation, memory and record, within our perception of history and the future. She had made over 30 films and video works, underpinned by the particular locations, entities and theories under her scrutiny, whether cultural, scientific, or philosophical.
Grace Weir represented Ireland at the 49th International Venice Biennale and has exhibited widely nationally and internationally. Selected shows include Laure Genillard, London; The Leuven University Library Galleries, Belgium; Wäinö Aaltonen Museum of Art – Turku City Art Museum Finland; Unit London, London; Artspace Boan1942, Seoul; Hessel Museum, Bard, New York; The Glucksman, Cork; DeLeón, Bath UK; Gracelands, Leitrim, Ireland; Beijing Art Museum of Imperial City - BAMOIC, Beijing; RHA Gallery, Dublin; Cornerhouse, Manchester; Temporarycontemporary, London; John Curtin Gallery, Perth; The Science Museum, London; Iziko South African National Gallery, Capetown; The Experimental Art Foundation,Adelaide; PS1, New York, USA. She was an Artist-in-Residence in Trinity College Dublin and had a major solo exhibition at the Irish Museum of Modern Art (2015-2016). In 2019 she was commissioned by The Institute of Physics (UK and Ireland) to create an installation 'Time Tries All Things' for the inaugural show in their gallery in London. She is currently working towards solo shows at Galleria Alessandra Bonomo in Rome and Solstice Arts Centre in Navan (2023).
'Why be an artist?' Public Talks Programme
Tuesday 29th November, 2022, 5PM
Introduction to the artist, Noel Sheridan
Brian Hand, artist, lecturer and Head of Sculpture and Expanded Practice Department, NCAD, discusses the late NCAD Director, Noel Sheridan's artist practice.

Friday 2nd December, 2022, 1.15PM
'Why be an artist?' Artists Roundtable Conversation
'Why be an artist?' artists, Kevin Atherton, Isadora Epstein, Gary Farrelly, Séamus Nolan and Grace Weir discuss their processes in making commissioned work in response to the filmed performance 'Why be an artist?' by Noel Sheridan, with Oisín Byrne and Vaari Claffey - moderated by Alice Butler, Co-Director of AEMI (Artists' and Experimental Moving Image) and introduced by Sarah Glennie, Director, NCAD.

Tuesday 31st January 2023, 1.15PM
A Walk-Through the Archive
Valerie Connor, visual arts curator and educator (lecturer in the School of Media at Technological University) invites us on a walk-through of the Noel Sheridan exhibition archive material from her time as Curator at Project Arts Centre, Dublin

Tuesday 7th February 2023, 1.15PM
Why be a curator?
Vaari Claffey, independent curator and producer of Why be an artist?, invites us to reflect on the historical nomenclature associated with the curatorial role and the use of the word 'and' in this context.

Tuesday 14th February 2023, 1.15PM
On Collecting for Archives
Christina Kennedy, Senior Curator: Head of Collections at IMMA (Irish Museum of Modern Art) discusses some highlights from the Noel Sheridan Collection and Archive.

Tuesday 14th February 2023, 5.30PM
How be an Artist? (After Noel Sheridan)
Convened by artist Frank Wasser - 'How be an Artist?' is a performative discussion that will posit the question of how artists conduct their practices and survive within, through and outside of the socio-economic and political infrastructures and institutions that sustain their practices. The event will feature contributions from Wasser and specially invited artists, Austin Hearne, Michelle Malone, Cam A. and Adam Gallagher. This event will also provide a performative platform for audience participation. All are welcome.
This talk is hosted by CFA at NCAD. CFA is a ground-breaking partnership between NCAD, IADT and UCD. Together we offer new skills, fresh networks and opportunities for learning throughout your life and career.
Invited Speakers' Biographical Information ↓
Alice Butler (IE) is co-founder and co-director of aemi, an organisation dedicated to the development of artist and experimental film culture in Ireland. Previously, Alice worked at the Irish Film Institute where she curated film seasons and had responsibility for artist moving image programming. Solo curatorial ventures have included 'The L-Shape' at The Dock, 'As We May Think' at IFI and 'New Spaces' with VAI Northern Ireland. Alice has written for Sight and Sound, Vdrome, Paper Visual Art, CIRCA and Enclave Review as well as exhibition or catalogue texts on Sylvia Schedelbauer, Atoosa Pour Hosseini and Colin Martin. Alice was on the jury at this year's International Short Film Festival Oberhausen and her survey chapter on the work of artist and filmmaker Pat Murphy was recently published in Maeve edited by Lance Pettitt and Beatriz Kopschitz Bastos. She has lectured on the moving image at Trinity College Dublin, NCAD, IMMA and is on the Hugh Lane Gallery panel of lecturers.
Valerie Connor (IE) works in the visual arts and higher education. Having studied fine art at the National College of Art & Design, she worked collaboratively with the artists group Blue Funk and completed postgraduate research at the centre for gender and women's studies at Trinity College Dublin. Lately, she completed a postgraduate action research at the Centre for Learning, Teaching and Technology at TUDublin. Valerie currently is an adviser to the Arts Council of Ireland on visual arts organisations and she has previously chaired the National Campaign for the Arts. She served on the board of the Irish Museum of Modern Art, PhotoIreland and National Irish Visual Arts Library and has commissioned projects and curated programmes at the 50th Venice and 26th São Paulo international art biennials, Tulca Festival of Visual Arts, Project Arts Centre and with local authorities and artists. She is a lecturer in photography at the School of Media at Technological University Dublin City Campus and an external examiner with the South East Technological University. She is a research practice mentor and has written on contemporary art and culture for magazines, journals, monographs and surveys for more than thirty years.
Brian Hand (IE) studied sculpture at National College of Art and Design, Dublin (NCAD), and media at the Slade School of Fine Art, London. He is currently lecturer and Head of Sculpture and Expanded Practice Department at NCAD. Most of his works are site-specific and research-based; they explore history from a postcolonial and interdisciplinary perspective. In 2003, Brian Hand was curator of the Arts Council's Critical Voices programme. He has long been interested in collaborative practices and was a founding member of several art groups (Blue Funk, The Fire Dept., 147, Entre Chien et Loup). He has written extensively on Irish artists (Anne Tallentire, Noel Sheridan, Daphne Wright, Dorothy Cross) and contributed essays to collective volumes.
Christina Kennedy is Senior Curator Head of Collections at the Irish Museum of Modern Art (IMMA) since 2008 and instrumental with current and previous directors in building the IMMA Collection.
Prior to that she was Head of Exhibitions at the Hugh Lane Gallery for 10 years and part of the team for the removal of Francis Bacon Studio to Dublin. She was lead curator of the 5 year IMMA Collection Freud Project (2016-21); co-curator for IMMA of Paula Rego: Obedience and Defiance, 2020 (organised by MK Gallery UK and SNGMA.
She has curated and co-curated many exhibitions, edited publications and contributed texts to numerous catalogues including The Narrow Gate of the Here and Now, IMMA Collection and 30 years of the Global Contemporary, 2022; IMMA Collection: Freud Project, 2016; Life Above Everything: Lucian Freud and Jack B.Yeats, 2019; Patrick Scott: Image, Space, Light, IMMA 2014; Changing States: Contemporary Irish Art & Francis Bacon's Studio, Bozar Centre for Fine Arts, Brussels, 2013; Art as Argument : Brian O'Doherty and the Novak O'Doherty Collection, Kunstmuseum Bayreuth, 2013; Hello Sam by Brian O'Doherty, National Gallery of Ireland as part of Dublin Contemporary, 2011; Postwar American Art: the Novak/O'Doherty Collection, IMMA 2010; The Moderns: The Arts in Ireland from 1900s - 1970s, IMMA, 2010-2011; The Burial of Patrick Ireland, IMMA, 2008; Beyond the White Cube: A Retrospective of Brian O'Doherty/Patrick Ireland, Hugh Lane Gallery, 2006; The Studio, co-curated with Jens Hoffmann, Hugh Lane Gallery, 2007; Tacita Dean, Hugh Lane Gallery, 2007; Currently, Christina Kennedy is a RDS Visual Arts Awards judging panellist.
Contact: Anne Kelly, Curator, NCAD Gallery, gallery@staff.ncad.ie