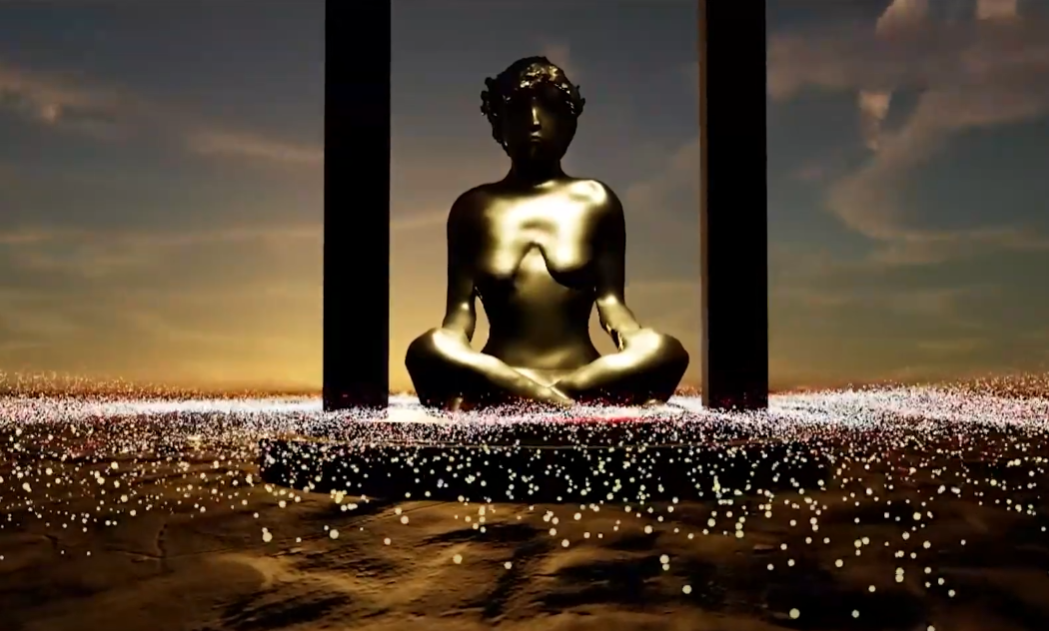 PROGRAMME
Artists In Conversation Talk: Elaine Hoey and Nikolas Ryan, Tuesday 14th November 2023, 1:15PM. No booking required.
Exhibition: NCAD Gallery OPENING TIMES ~ This is a ticketed exhibition event ~ NEW TICKETS for Nikolas Ryan's immersive VR installation Transition To Transcendence at NCAD Gallery running Thursday 9th and Friday 10th November 2023 ~ LINK
Friday 3rd November 2023, 11AM—6PM
Thursday 9th and Friday 10th November 2023, 11AM—6PM

The NCAD Gallery is delighted to present a short run exhibition of artist Nicolas Ryan with their interactive, immersive installation Transition To Transcendence (2023).
Transition To Transcendence is an interactive, immersive installation which includes a VR element. It takes root in a profound exploration of Ryan's experience with Evangelical Queer Conversion Therapy, guided by Foucault's insights on Biopolitics. Embracing the wisdom of Jungian Psychology, Ryan embarked on a transformative process of Individuation which Jung describes as something "only experienced by those who have gone through the wearisome but indispensable business of coming to terms with the unconscious components of the personality." It unveiled the illusion crafted by Ryan's critical filter, revealing that he had lived confined by beliefs he never truly embraced.
Drawing inspiration from Ericksonian Hypnosis, he harnesses the power of Virtual Reality to immerse viewers in a meditative journey through his unconscious mind where viewers can transcend the binary perceptions that society pushes upon us.
.
Transition To Transcendence (2023) is presented at the NCAD Gallery on the occasion of and in partnership with the inaugural BETA Festival of Art and Technology, co-founded by The Digital Hub and Aisling Murray and funded by The Digital Hub and Science Foundation Ireland. Transition To Transcendence is programmed and curated by Anne Kelly, NCAD Gallery Curator.
.
Artist Biography
Nikolas Ryan is a Trans POC contemporary artist. His work is deeply rooted in examining the intersections of art, technology, and social justice. Over the last few years, he has been experimenting with new media technologies such as digital media and interactive software.
Ryan's research allows him to be analytical and tenacious in developing his understanding of the themes in his studio practice. Biopolitics, The Extended Mind Theory and Ericksonian Hypnosis.
Ryan's goal is to develop immersive Virtual Reality experiences that enable people to challenge their preconceptions in a surreal but safe environment. Other mediums he is interested in include 2D/3D Animation, Sound, Video, and Augmented Reality.
His work explores themes of Religion, Spirituality, Vietnamese Culture, and Gender Identity.
At its core, his art is a call to action, encouraging and aiding individuals to transcend beyond belief.
.
BETA Festival A creative cartography of Ireland's art and technology landscape November 2nd - 19th 2023 Exhibition FREE ENTRY
Beta Festival will feature a unique exhibition of Irish-based and international artists spanning the material and digital, the real and the virtual, the local and the global through creative and critical practice. Beta Festival provides a platform for Irish-based artists and researchers to bring their work to new audiences so that collectively we can seek out original ways to navigate through our contemporary networked world. See the BETA website for a full programme of events.