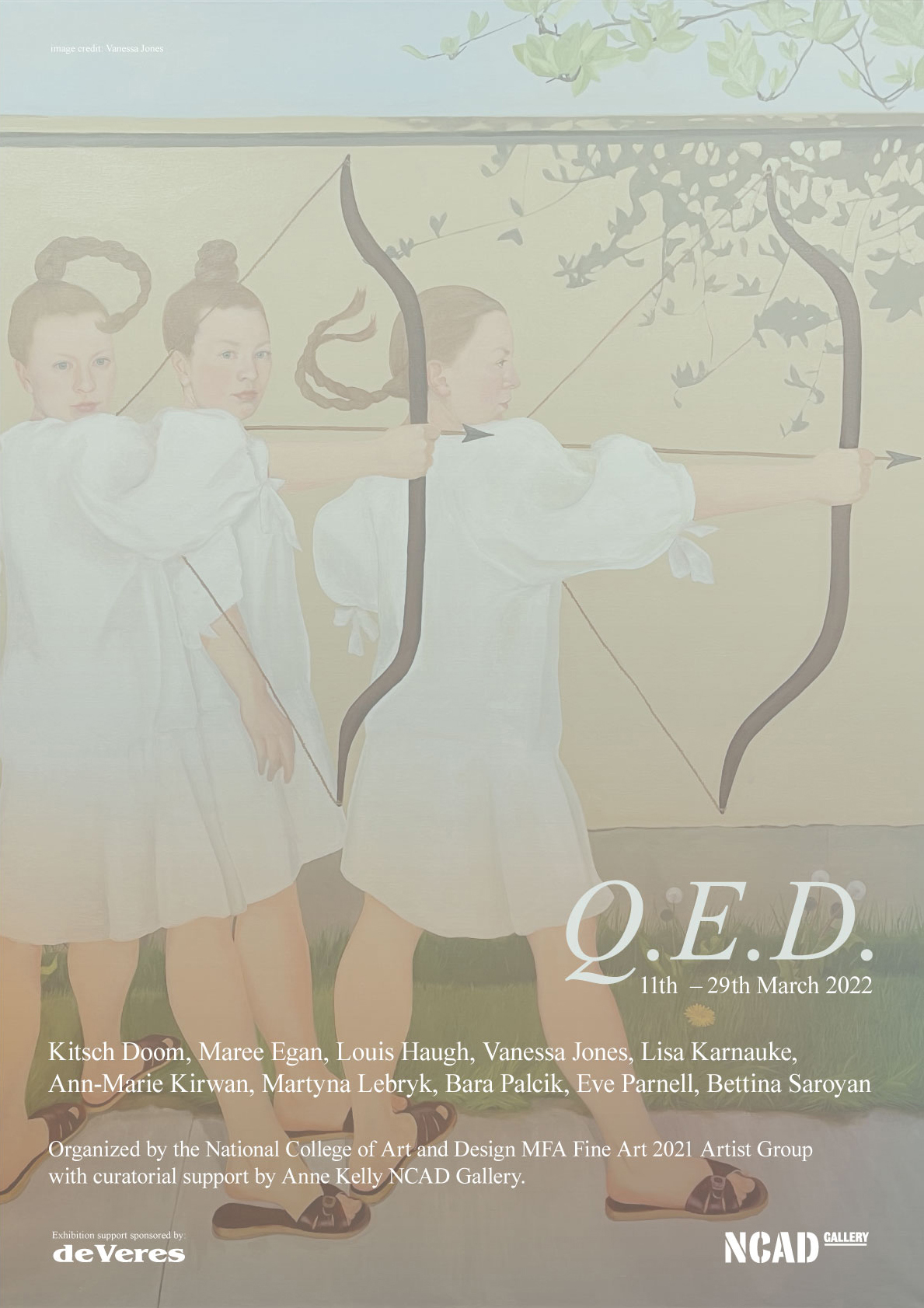 Q.E.D. in latin, quod erat demonstrandum literally translates as, "what was to be demonstrated", titles a new exhibition in signifying the culmination of work and proven record of time spent by ten artists, Kitsch Doom, Maree Egan, Louis Haugh, Vanessa Lee Jones, Lisa Karnauke, Ann-Marie Kirwan, Martyna Lebryk, Bara Palcik, Eve Parnell and Bettina Saroyan, on their masters' of art programme at the National College of Art and Design, Dublin, awarded in 2021.

Almost a year since, these artists regroup to produce Q.E.D., an exhibition and opportunity for audiences to witness the artists practices advance, as we remind ourselves of their previous self-organised exhibition, We Are Solitary in 2020 at Rua Red 1. Notwithstanding the exceptional past two years, recent accolades bestowed on artists' works have been abundant, namely, international film festival inclusions at Prague, Barcelona, Los Angeles, New York and many more, The Contemporary British Painting Prize, RDS Visual Art Awards, the National Gallery of Ireland Zurich Portrait Prize and The Sequested Prize.

The NCAD Gallery is delighted to host the Q.E.D. exhibition and artists, who coalesce a breadth of contemporary visual art practice in filmmaking, lens-based work, textiles, painting, drawing, sculpture, photography, social media experiments and performance – on view to public audiences until Tuesday 29 March 2022 at NCAD Gallery, Monday-Friday, 11AM-6PM. All Are Welcome.
Exhibition Curatorial support from Anne Kelly, NCAD Gallery.

Q.E.D Exhibition Programme

EXHIBITION 11 March - 29 March 2022. Exhibition Opening Friday 11 March, 4PM-8PM.
ONLINE Digital Diary, Live Conversations Series As part of the Q.E.D exhibition programme artist Kitsch Doom takes over the NCAD Gallery Instagram account from 7 March to conduct interviews with their Q.E.D co-exhibitors. Available to watch at leisure LINK
ONLINE EXHIBITION EVENT Friday 11 March 2022, 1PM, Guest speaker, Sara Greavu (Curator of Visual Arts Project Arts Centre) In Conversation with Q.E.D, NCAD MFA 2021 Graduate Artists. Broadcast on YouTube on Friday 11 March 2022, 1PM. LINK
Sara Greavu Biography ↓
Sara Greavu (Curator of Visual Arts at Project Arts Centre) is a curator, writer and organiser. She has a particular interest in how art can recognise existing social structures, propose alternative histories and genealogies, and prefigure different social relations. Previous curatorial and development roles include Centre for Contemporary Art Derry~Londonderry, VOID, and Outburst Arts, Belfast; in addition to working independently. Institutional and independent projects have included artists such as Renate Lorenz & Pauline Boudry and Phil Collins, and new commissions by Aideen Doran and Eimear Walshe, among others. In CCA she initiated the two-year residency programme, Our Neighbourhood, which engaged with local communities of place and communities of interest, alongside artists Sarah Pierce and Sarah Browne. In 2019, in partnership with artist Andrea Francke, she developed Knowledge is Made Here, an alternative pedagogical practice, produced with queer, trans and non-binary young people. Open the book at a different page, a research project with artist Ciara Phillips and former members of the Derry Film and Video Workshop, dealt with intertwined political and cultural initiatives in Derry in the 1980s.
Q.E.D Artists' Statements
KITSCH DOOM For the Q.E.D. Exhibition Kitsch is showing some live experimental social media performances as their new characters Junior and Loring. Two figures of teenage cyborgs, sit on opposite ends of a shiny chrome couch, in a cold yet colourful video game world environment. The figure on the left, Junior, is dressed completely in black. He wears a familiar leather belt mask, silk pants, suspenders, an inflatable latex shirt and checkered creeper punk shoes. He boasts a dark and moody demeanour while coding on his gaming laptop. He looks over at his sibling and immediately turns, and stares at the audience while holding his head in embarrassment. His sibling on the right is the complete opposite to him. Loring is a fiery red, non-binary super hero. They wear a leather chest binder, latex shorts, leather leg harness, knee high laced up boots and a long red cape, complete with a feather trim. With one single pose they command the audience's attention. Fame obsessed, Loring's main goal in life is to become the most well known social media influencer known to man. Fierce, outspoken, yet naive, Loring knows how to get what they want and how to get it.
Inspired by theories on gender, sociology and posthumanism, Kitsch transforms themselves and volunteers into fictional characters through acting techniques such as improvisation and the Method. Through performance, video, photography, and social media experiments, Kitsch explores new ways of conceptualising 'the self'. Kitsch creates work about the many layering processes behind human identity, and how we are now living in a strange, chaotic time in the world that lies in-between dated traditional values and trailblazing digital realities. Undoubtedly, the imprint of man is changing. In a world where being human isn't cutting it, where does our sense of self lie?
IG @kitschdoom
MAREE EGAN Quest is a short film capturing the essence of contemporary dance movement. A story about humanity, friendship and faith in a higher power encapsulated through the somatic response of the body to emotion, memory and place. The synthesis of past and present plays an important role in the autobiographical basis of this work. In which the function of memory is not only to recall, reconstitute or reconcile the past but also to construct and represent the present. In 2011 while on a retreat at the Omkarananda ashram in Rishikesh situated at the foothills of the Himalayas two kindred souls met. It was a chance encounter that would prove to be life changing. This film is dedicated to the memory of the late Alexander Ogden DiMeo the American Swami/Hindu Monk who in the artist Maree Egan's darkest hour restored her faith in humanity 'he just listened and let me speak whilst shouldering the burden of my pain. A man I am so proud to call my friend. The extraordinary, the unique and the unforgettable Alexander whose memory will never be extinguished from my mind'.
IG @maree3e
LOUIS HAUGH is a visual artist working across photography, video and installation. His practice sits at the intersection of art and ecology and draws extensively from his work as a freelance museum photographer. His work looks at the history of non-native conifer trees in Ireland and the colonial histories connected to their provenance. This research is informed by his interest in archives, story-telling, micro-histories and memory. Through multiple photographic layers, his work also plays with the principles of photography itself, often utilising a wide variety of image making processes to present his work. The outcome of these presentations span both gallery and non-gallery settings, as well as public events and collaborations with other visual artists and art writers.
IG @louishaugh
LISA KARNAUKE For Q.E.D., Lisa choses her work 'infinite possibilities' (2022) to accompany the exhibition. The large-scale projection plays with an illusionistic and contradictory idea of limitlessness: A single set of glitter-letters is used to lay short phrases onto a pink-cloudy background. Due to the limited assortment of letters, the phrases are partially disassembled in order to formulate a next phrase. Again and again, the same material serves as the source of formulation and form finding while reaching its limits. Most of the phrases suggest infinite possibilities and might even come across as motivational mantras. They pretend to carry heavy meanings. Like a chorus, the phrase "Takes me ages to figure out how to play" repeats itself throughout the video and emphasises the search for playfulness within the (creative) process. In her artistic practice, Lisa explores the idea of a body of work as an autonomous entity coming into being as the result of its multiple constituents.
There is always a special interest in the socio-cultural as well as the site-specific context surrounding a work. In her installations an interventions, she is working across disciplines and is mixing diverse materials that support her approach to an idea of art - art as an everchanging knowledge and resonating language that hugely depends on and vice versa is defined by the culture(s) that chose(s) to quarrel with it.
IG @lisakarnauke
ANN-MARIE KIRWAN 'SPLIT – Breathing Offline', 13 minutes and 12 seconds. "pulled away, detached," from physical, or concrete, pictorial reality. In #Lockdown, the transition from Sculpture to Video tests the human body's endurance. "I hold my breath under the water. "The emphasis is on breath, containment, and boundaries that we all share and are essential to our existence. As my studio space transitioned from college to home, my kitchen, bedroom, and bathroom became my reality. Editing visuals, audio, filming techniques, and presentation methods. An expression of emotions that extends the vision of a body into an unforgiving shape.
IG @kirwanann
MARTYNA LEBRYK 'I create awkward, confused, and hesitant figures. I construct a humorous and poignant universe where the seriousness and laughable co-exist. My artworks depict bodily creatures occupying dreamlike spaces. These fanciful scenes explore themes of identity, agency, self-determination and longing. There have a certain perversity, humour and fragility to them. The subjects of my works appear both comical and tragic — as if the sense of humour is critical to survival in this strange world I have created. Hesitant and restless, they waver between feelings of enthusiasm and despair. This awkward tension explores a sense of confusion, which affects our moral, social and political hopes.
Formally, I work with semi-familiar shapes, ludic colour and active lines, which help to shape these ambiguous and crooked narratives. In my process, the act of erasing is as important as determining what to preserve. This crude materiality suggests references to urban aesthetics, where things happen fast, bodies pass in transit, assemble, become visible, and, through that, political. It seems that all might crumble at any moment. But we, like Winnie in Becketts 'Happy Days', appear to be somewhat awkwardly stuck in a muddle of the world.'
IG @martynalebryk
VANESSA LEE JONES I am a figurative painter whose practice explores themes around the feminine using self-portraiture. Working representationally in oils using traditional techniques, I employ the history of Western painting alongside medieval and primordial symbolic associations to engage the viewer in ideas around myth, beauty, replication and duality as it relates to the feminine archetype. My work plays with ideas of beauty, its subversiveness and its relationship with instinct and danger. By representing symbols of the feminine and using self-portraiture, I can create imaginative narratives and a hyperreal believability. I can shapeshift through time and space, and, ultimately, see paradoxical ideas that exist within myself and the world at large.
My personas inhabit familiar yet unknown landscapes that are embedded in cultural symbolism. As self-portraits, they work to conflate Western and Eastern cultures to reflect my own Western identity integrated with a rich Eastern heritage. The self-portraits also underpin the idea of replication. I find that by painting myself repeatedly, I can not only take greater risks with composition, but I have the opportunity to go beyond the idea of the portrait and into embodiment and narrative. Like an Archaic statue or Silk-road Buddha, my image is no longer an individual but a representation.
IG @vanessaleejones81
BARA PALCIK "Hiding in the Grain", HD Film, 15 min, 2021 work is inspired by many key events from her own life, which she considers to be the main driving force of all of her creations. "Making experimental films is my temporary escape from the reality of everyday life. My memory is a spark that gives me the desire to create, and it is a fuel for my work to become 'alive'. With the camera and editing software, I walk down memory lane and return to certain episodes of my life, which can then be revived; although, of course, it is impossible to repeat them." "Hiding in the Grain" makes no distinctions in one's sexual preference, it proposes non-binary identities and encourages the fact that a person's gender identity does not have to be limited to being female or male. The film, full of personal memories, explores the notion of identity and examines that "in between" space of not belonging. Palcik's work have been exhibited nationally and internationally.
IG @palcik4
EVE PARNELL often responds to the environment and situations around them. The recent invasion of Ukraine inspired the title 'This is Normal'. It is a presentation on a plinth of a selection of drawings, the medium is biro on archival paper. Stacked like a house of cards, the drawings precariously balance. The definition of house of cards is 'a structure, situation, or institution that is insubstantial, shaky, or in constant danger of collapse' (Merriam-Webster Dictionary). To see the drawings the viewer must engage with the piece. Unsurprisingly they are dark. Millions of lines make up the structure, layered upon the other, images of our 'everyday' emerge from the swirling smoke. Atmospheric, almost film noir, these compositions are not cynical, rather, they are a record of the Artist's disenchantment with the times.
IG @eveparnellartist
BETTINA SAROYAN My practice is mainly oriented towards textile art and more specifically weaving. Whether precious or raw, industrial or artisanal, textiles are a universal medium. All over the world, weaving, embroidery and dyeing techniques have been passed down to evolve over time. The textile is a story of interlacing, of poetry of the gesture which meets the precision of the technique. It is a medium that has always been closely linked to technological progress: Jacquard punched card looms were among the first industrial machines and paved the way for the creation of the computer. The world of robots inspires me a lot, as does cinema and even magic. I also draw a lot from childhood memories to create a strange scent of deja vu. My last series of artworks revisit traditional tapestry in a contemporary prism, orchestrating the encounter with a digital and robotic world that is gradually eclipsing craftsmanship but is the logical continuation of it. Using the codes of pop culture and our ultra-modern world, the fusion between tapestry and digital is an echo of the past gesture. It is this dialogue between manual and machine, artisan and industry, art and technology that drives my practice. The piece exhibited, '4 m0n s3ul de5ir', is directly inspired by the Dame a la Licorne tapestry, a 16th century ensemble of 6 textile pieces representing the 5 senses, the 6th one being Love. In my interpretation the written mantra, 'A mon seul d sir' ('to my only desire'), is recreated using the Leet alphabet, a digital language used in the 80's mainly consisting of numbers and keyboards symbols in order not to be able to be deciphered.
IG @bettinasaroyan
Q.E.D List of Artists' Works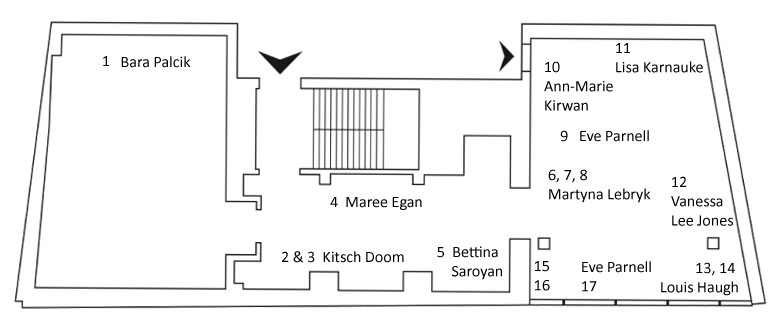 1 Bara Palcik – Hiding in the Grain, 2021, video, duration: 15min.
Screening Dates & Times: Friday 11th March 2PM-8PM
Monday 14th March 1PM-2PM and 4PM-6PM, Tuesday 15th March 1PM-4PM
Monday 21st March 1PM-2PM and 4PM-6PM, Tuesday 22nd March 1PM-4PM,
Thursday 24th March 1PM-2PM, Friday 25th March 11AM-6PM
2 Kitsch Doom – Act 2 Scene 1: Reality Ends!, (2022), 2021, digital self-portrait, digital collage, 3D virtual background made in Unreal Engine, print
3 Kitsch Doom – Junior, 2022, live experimental social media performance
4 Maree Egan – Quest, 2021, multi-screen installation, duration: 12min
5 Bettina Saroyan – 4 m0n s3ul dé5ir, 2022, 40cm x 118cm, tapestry
6 Martyna Lebryk – The rebel, 2022, paper, wire, timber and MDF panel
7 Martyna Lebryk – Last winter was taught, 2021, 83cm x 70cm, oil and oil pastel on Fabriano paper
8 Martyna Lebryk – And she said–turn the tables, 2021, 83cm x 70cm, oil and oil pastel on Fabriano paper
9 Eve Parnell – Drawings' house of cards installation, biro on archival paper, 2021
Fish on the Beach, biro on archival paper, 41cm x 31cm
Boom, biro on archival paper, 41cm x 31cm
Munch's Cigarette, biro on archival paper, 41cm x 31cm
Nice, shoes? biro on archival paper, 41cm x 31cm
10 Ann-Marie Kirwan – Receptive skin, 2021, video, duration: 5.24min
11 Lisa Karnauke – Infinite possibilities 2022, installation / large scale projection, loop, duration: officially unknown
12 Vanessa Lee Jones – Bowmen (Self-portrait,) 2021, 170cm x 140cm, oil on linen
13 Louis Haugh – A silverish–purplish bark, 2022, pigment printed wallpaper, dimensions variable
14 Louis Haugh – Images in Reflections; Parallax Histories #2372, 2021, 80cm x 110cm, pigment print
15 Louis Haugh – Images in reflections; Parallax Histories #2676, 2021, 50cm x 80cm, pigment print
16 Louis Haugh – Scaly bark that flakes off easily, 2022, pigment printed wallpaper, dimensions variable
17 Eve Parnell – Glass Smash, This Is Normal, 283cm x 143cm
The Q.E.D. exhibition is kindly supported by DeVeres Art Auction House. Curatorial support from Anne Kelly, Curator, NCAD Gallery.