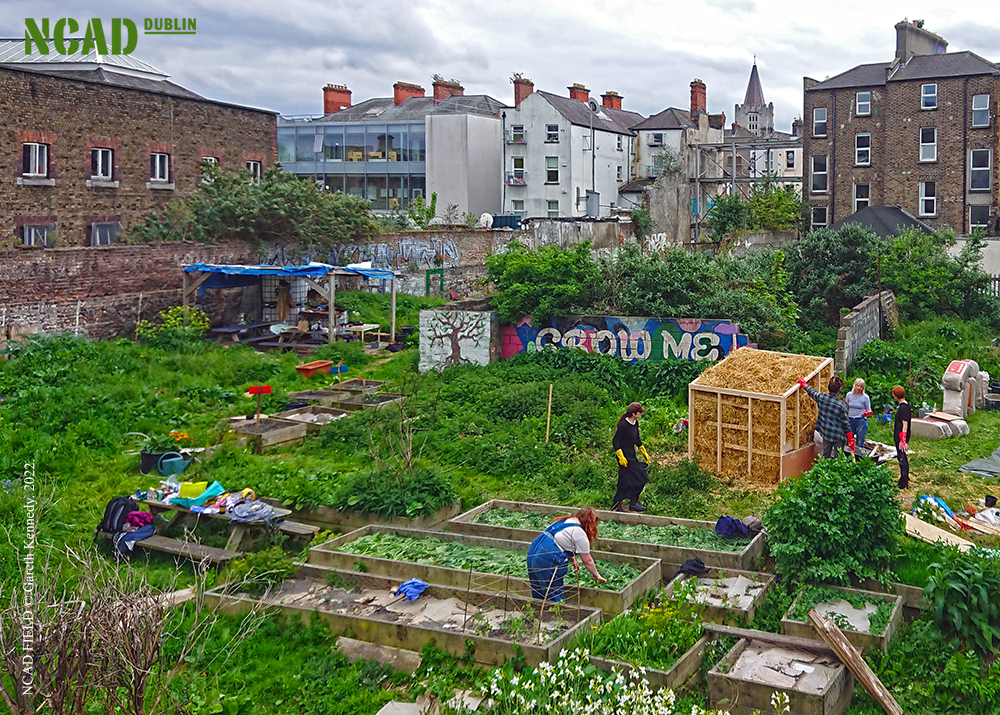 The National College of Art and Design, Dublin (NCAD) and The Digital Hub present a programme of public talks titled, TURNING GROUND Talks Series 2022. This is the second year in which the two organisations have partnered in this way: the 2022 series creates a platform to bring together local and international artists, community, activists, academics and practitioners to discuss art ecology projects, research and practice. Together, they will imagine just socio-ecological futures with a focus on the Dublin 8 neighbourhood.
The NCAD & The Digital Hub partnership builds on stakeholder participation at the intersection of artistic and transdisciplinary practice, research and society. The series is designed to bring key industry figures; academics and thinkers; students and alumni; the arts sector to the wider general public.
NCAD | The Digital Hub Turning Ground Talks Series 2022 is convened by artists, Gareth Kennedy, NCAD Fine Art lecturer in Sculpture and Expanded Practice & course leader of NCAD FIELD and Seoidín O'Sullivan, The Digital Hub Artist-In-Residence, NCAD Visual Culture guest lecturer in Art, Ecology & Critical Spatial Practice and NCAD First Year Studio Practice tutor.
Series image: NCAD FIELD © Gareth Kennedy. 2022.
Programme Schedule
EVENT 1
Title: Art and Critical Ecological Practice. No event registration required.
Date & Time: Thursday 26 May 2022, 5.30PM – 7PM (UTC).
Location: NCAD, 100 Thomas St., D08 K521, Harry Clarke House Lecture Theatre. Map LINK.
Hosts: Austin Campbell (Robert Emmet CDP), Gareth Kennedy (NCAD), Seoidín O'Sullivan (The Digital Hub).
Brief Seminar Overview
An introductory discussion to the TURNING GROUND series on research and work related to Art and Critical Ecological Practice, connecting neighbourhoods in the Dublin 8 area. Our speakers will ask, what is the role of contemporary art in meeting the challenge of Climate Futures? How does NCAD as an institution connect and work towards supporting and broadening this field of practice? What does this teaching practice and work look like?
Austen Campbell: Austin will speak about Robert Emmet CDP's approach to building empowered and resilient communities through the direct delivery and support of local environmental projects such as Bee8 - Inner City Beekeeping Project. Robert Emmet CDP currently directly manage Irelands largest apiary and also support community led initiatives including Taplin's Fields community garden and Liberties Flax Weavers.
Gareth Kennedy: Over the last seven years at NCAD Gareth has supervised nearly 100 student projects in the Liberties as part of Second Year Sculpture and degree level course work. This has generated a nuanced and particular understanding of the area. Since 2020, Gareth has been charged with running Studio+ NCAD FIELD module in a derelict brown field site beside the college. Students reckon with the layered history and potential futures of this site through experimental, experiential and environmental pedagogy combining cognitive, intellectual learning with hands-on processes. Gareth will speak to this evolving and dynamic course work that tasks students with developing new 'Naturecultures'.
Seoidín O'Sullivan: Will reflect on art and research projects that she has developed across 10 years of working as an artist in the neighbourhood including Hard/ Graft, Mapping Green Dublin and Urban Grit. Starting with a community garden project in 2006 during her MA in Media at NCAD, Seoidín has developed research projects that have brought community and academics together to design and enact ecological change in their area.
EVENT 2
Title: Re-Enchantment: Environmental Law and Ruderal Ecologies. No event registration required.
Date & Time: Thursday 2 June 2022, 5.30PM – 7PM (UTC).
Location: Online Talk via YouTube LINK.
Speakers: Margaretha Haughwout (Colgate University) and Sinead Mercier (UCD Sutherland School of Law)
Moderators: Gareth Kennedy (NCAD), Seoidín O'Sullivan (The Digital Hub)
Brief Seminar Overview
Ruderal ecologies emerge in sites of human disturbance. They emerge in rubble, ruins, in waste spaces. Ruderal ecologies make use of all possibilities for transportation that the 21-st century can offer, quickly reproducing, rapidly spreading seed, breaking up or binding together soils, offering nutrients, and playing host to insects and other outcasts of modernity. Importantly, ruderal landscapes are landscapes of the poor and working classes, of the landless proletariat; they are spaces where nature has been cheapened, and then abandoned. Witches, too, are ruderal. Like many ruderal plant and animal species, witches are cast out or devalued with ongoing enclosure movements; they are left to haunt the periphery. In this talk, Margaretha Haughwout will describe recent creative work that she and her collaborator Oliver Kellhammer enact under the title of Ruderal Witchcraft.
Margaretha Haughwout collaborates with humans, and the more-than-human, across technologies and ecologies, gesturing to possible worlds — worlds that generate abundance, presence and relationship, and antagonize regimes of private property. Her work manifests as speculative fabulation, intervention, participatory event, walking tour, experimental pedagogy, installation, and as biological process. Margaretha's active collaborations include the Coven Intelligence Program, with efrén cruz cortés: a coven that uncovers revolutionary ecologies between witches, plants and machines; the Guerrilla Grafters, with Ian Pollock and Tara Hui: who graft fruit bearing branches onto non-fruit bearing, ornamental street trees in the urban environment; Ruderal Witchcraft with Oliver Kellhammer: considering of set of practices specific to planetary, weedy natures that work their way at edges and interstices of public and private property, and which are entangled with a range of other human and non-human outcasts of capitalist modernity; and the annual Grafters X Change, where bioregional eco-artists and fruit tree enthusiasts continue the work toward abundant Food Forest Futures.
Most recently Margaretha's work was featured at The Pixelache Festival in Helsinki, Yerba Buena Center for the Arts in San Francisco, Stadtwerkstatt at Ars Electronica in Linz, Austria, and at the Usdan Gallery at Bennington College. Her writing has recently been published in an anthology called Socal Practice and Technologies for Change, edited by xtine burrough and Judith Walgren, and she has a forthcoming essay, co-authored with Oliver Kellhammer entitled "The Ruderal Witchcraft Manifesto" coming out through Duke University Press. Margaretha received her MFA from the University of California Santa Cruz. In her studio classes at Colgate, she draws connections between avant-garde legacies, emerging media art, and collaboration, in order to foster distributed, artistic approaches to the interconnected issues of our time/s.
In addition to her academic training, she has her permaculture design certificate through the Urban Permaculture Institute, and has formal training in herbal medicine in the Western Tradition, having studied with a range of herbalists include Matthew Wood.. LINK
Sinéad Mercier is a lecturer in Planning Law, Environmental Law and Policy at University College Dublin, and an ERC project PROPERTY [IN]JUSTICE/UCD Sutherland School of Law PhD researcher on the topic Grounding the land in the otherworld: fairyforts, holy wells and rag trees in Landscape and Lawscape. She has worked on just transition/environmental/climate change law and policy for a range of government, grassroots, political parties and other organisations. Recent publications include Men Who Eat Ringforts: A study of County Clare's fairyforts and environmental law co-written with artist Michael Holly and seanachaí Eddie Lenihan, published and edited by Askeaton Public Arts and funded by Clare County Council's Gaining Ground Programme and the Arts Council.
EVENT 3
Title: Radicle Lab. No event registration required.
Date & Time: Thursday 9 June 2022, 5.30PM – 7PM (UTC).
Location: Radicle Lab, The Digital Hub. iD8 Studio, The Gatelodge, The Digital Hub, Dublin, D08 EY05.
Speaker: Dr Panagiota Kotsila of BCNUEJ (Barcelona Lab for Urban Environmental Justice and Sustainability) LINK & ICTA-UAB LINK
Moderators: Gareth Kennedy (NCAD), Seoidín O'Sullivan (The Digital Hub)
Brief Seminar Overview
Panagiota Kotsila of BCNUEJ (Barcelona Lab for Urban Environmental Justice and Sustainability) examines the structural and systemic drivers of social inequalities, exclusion, oppression, and neo-colonization in cities. Building on the theory and methods from urban planning, public policy, urban and environmental sociology, urban geography and public health, the Lab analyses the extent to which urban plans and policy decisions can contribute to more just, resilient, healthy, and sustainable cities, and how community groups in distressed neighborhoods contest environmental inequities as a result of urban (re)development processes and policies. Kotsila and her colleagues believe in putting the needs of socially vulnerable groups at the centre of sustainable urban land use practices and planning decisions, and prioritizing justice-driven responses to environmental and climate-related challenges. Our emphasis is on understanding the role that community, public, and private institutions can play in creating prosperous, welcoming and supportive cities for all.
Dr Panagiota Kotsila studied Biology at the University of Athens, and has a Joint European Masters in Environmental Studies (JEMES) with a management-oriented specialization, and a PhD in Development Studies from the University of Bonn, where her research was part of a multi-disciplinary project on water management in the Mekong Delta, Vietnam, funded by the German Federal Ministry of Education and Research – BMBF. She was a Marie-Curie postdoctoral researcher in the European Network of Political Ecology (ENTITLE).
Her work has focused on political ecologies of health and the biopolitics of disease in a context of climate change, environmental degradation and human mobility. Looking at the sociocultural determinants of health, her research speaks to the indispensability of interdisciplinary thinking in order to overcome the caveats of narrowly defined health indicators. As a political ecologist she is interested in how the notions of nature and risk are socially constructed, what meanings and values they carry, and what type of political processes are mobilized around them. Please find further information at this LINK
EVENT 4 - September – October 2022. Forthcoming dates to be confirmed
Title: Permaculture / Theatre of the Oppressed - Registration will be required for this event.
Date: September – October 2022. Date TBC. Forthcoming on https://ncadinpublic.ie/
Location: NCAD, 100 Thomas St., D08 K521, Harry Clarke House Lecture Theatre. Map LINK.
Speakers: Dr Mojisola Adebayo (Queen Mary, University of London) & Dr Nicole Wolf (Goldsmiths, University of London) Workshop & Talk.
Moderators: Gareth Kennedy (NCAD), Seoidín O'Sullivan (The Digital Hub)
Brief Seminar Overview
In the NCAD FIELD with Mojisola Adebayo & Nicole Wolf. A three day PERMACULTURE Workshop with 20 NCAD students & Community Stakeholders / Practitioners. Compos(t)ing body and soil methods for anti-colonial gardens plus a talk event. The Workshop will be a critical exploration of Theatre of the Oppressed and Permaculture, with practice-researchers speaking about their work, approach and projects.
Dr Mojisola Adebayo BA (hons), MA, PhD, FRSL, is a Black British born, Nigerian / Danish performer, playwright, director, producer, workshop leader and teacher. Over the past 25 years, she has worked on various theatre and performance projects in Antarctica, Botswana, Brazil, Belgium, Canada, China, Finland, France, Germany, Ghana, Greenland, India, Ireland, Israel, Lebanon, Malawi, Mauritius, Myanmar, Norway, Pakistan, Palestine, Singapore, South Africa, Sri Lanka, Sweden, Syria, the USA and Zimbabwe. She has acted in over 50 theatre, television and radio productions, devised and directed over 30 scripts for stage and video and has lead countless workshops and training courses.
Her wide and diverse work has ranged from being an actor with the Royal Shakespeare Company to co-founding VIDYA, a slum dweller's theatre company in Ahmedabad, India. All of her work is concerned with power, identity, personal and social change. Having trained extensively with and also worked alongside Augusto Boal, she is a specialist facilitator in Theatre of the Oppressed, being invited to work particularly in areas of conflict and crisis. Mojisola Adebayo also teaches in the Department of Drama at Queen Mary, University of London, and she also taught in the Department of Theatre and Performance at Goldsmiths, University of London and at Rose Bruford College. She is an associate artist with Pan Arts, Building the Anti-Racist Classroom and Black Lives, Black Words. She mentors young and emerging artists. Please read further information at this LINK
Dr Nicole Wolf's wide range of interests merge in thinking, writing, teaching and curating with political cinemas as modes of critical and productive relations. Anthropology, film studies, political science and postcolonial theory informed her academically and her extensive and continuing research in South Asia shaped her conceptual and activist queries towards documentary mode and experimental filmmaking.
Her earlier research focused on the entanglement of histories of feminist theory and practice with filmmaking practices in India which then expanded into a search for past and possible future internationalist film poetics, thinking from multiple histories of politically and aesthetically radical cinemas. Closely connected are her questions on how to narrate, witness and respond/ act responsibly to conflict whereby relations between the audio-visual and the constitution as well as critique of borders and militarised zones, such as Kashmir, have been central. Most recently her queries towards evidence narratives as interventionist practices and the politics and poetics of justice have led towards violations of human rights through destructions of land and ecological/cultural environments. Please read further information at this LINK
Artists' Programme Convenor Information
Gareth Kennedy's work explores the social agency of the handcrafted in the 21st century and generates 'communities of interest' around the production and performance of experimental material cultures. Informed by an anthropological approach these works draw on the layered histories of a location. Projects are embedded, evolve over time, and are enacted by diverse publics and individuals. With the hyper digitisation of our everyday life, Kennedy is interested in the use of anachronistic processes and technologies to produce 'critical anachronism' and generate contemporary encounter and experience. To this end, he often works with individuals who hold skills or knowledge that has been transmitted across generations.
In 2009, he co-represented Ireland at the 53rd Venice Biennale alongside artist Sarah Browne and their collaborative practice, Kennedy Browne. In 2015 he was long listed for the prestigious VISIBLE Award for Die Unbequeme Wissenschaft ('The Uncomfortable Science'), which explored a troubling history of anthropology in the Austrian/Italian Alps and it's legacy. He is currently undertaking commissions for the National Children's Hospital and Fingal County Council in Dublin. He is also developing a Micro-forest project over 2 years in a Dublin school through SUPERPROJECTS. He teaches Sculpture and Expanded Practice and is lead on the new Studio+ FIELD module at NCAD, Dublin. LINK

Seoidín O'Sullivan is a contemporary artist with a socially engaged practice who lectures in Visual Culture at NCAD. Her art projects are collaborative and focus on bringing people together in action to protect or develop an aspect of their Ecological Commons.
She is currently artist in residence with the Digital Hub where she has developed Radicle: A Creative Ecologies LAB. Seoidín has been working in the Dublin 8 area over the last 12 years. Other Projects include Mapping Green Dublin (Link), a year-long community mapping project with UCD Geography and Common Ground funded by the EPA (2020). This project mapped all of Dublin's urban tree canopy and then carried out community mapping workshops of current and possible future green infrastructures for the area. HARD/GRAFT with Common Ground (2017-2019) grafted fruit tree, with Community groups towards future orchards including one of Ireland's oldest fruit trees, the famous Digital Hub pear tree.
Seoidín O'Sullivan works in the area of 'Critical Ecologies' connecting multidisciplinary teams and partnerships using creative participatory art methodologies to reveal solutions and work towards creating just multi-species futures and collective imaginaries at a time of climate crisis. Seoidín is recipient of the Arts Council Bursary Award 2021, Arts Council Next Generation Award 2018 and the inaugural Hyde Park, Chicago art residency award with IMMA and CREATE in 2017. LINK
.

Programme Contact: Anne Kelly, Curator NCAD Gallery | In Public Programmes, National College of Art and Design, 100 Thomas Street, Dublin D08 K521, Ireland.gallery@staff.ncad.ie . Top image: NCAD FIELD © Gareth Kennedy. 2022.
.
.
TURNING GROUND Associated Project
Digital Hub Artist In Residence 2022 ~ Seoidín O'Sullivan

RADICLE is a Creative Ecologies LAB that uses social practice art methodologies to connect communities, artists and researchers to celebrate, imagine and create just and ecologically sustainable projects that affect change in their cities and neighbourhoods. Radicle, initiated by artist in resident Seoidín O'Sullivan, will be active from 31 May to 10 June 2022 at the Digital HUB, Digi 8 space. It will be a library, open studio and workshop space for collective dreaming and action. It will act as locus and hub where artists, academic researchers and members of the community can meet and inform each other through their work and practices.
It brings and connects research projects that Seoidín has been part of like Mapping Green Dublin with Common Ground and UCD Geography, Urban Grit with Robert Emmet Community Development Project and geographer Alma Clavin and Emotional mapping of the Camac River with geographer Ronan Foley. The LAB will host community ecology projects from the Digital HUB /NCAD neighbourhood through a series of lunchtime walk and talks. There will be workshops demonstrating how to propagate plants through cuttings with award winning gardener Joan Mallon, Critical Design with Anne Schiffer and discussions on The rights of Nature with Peter Doran.