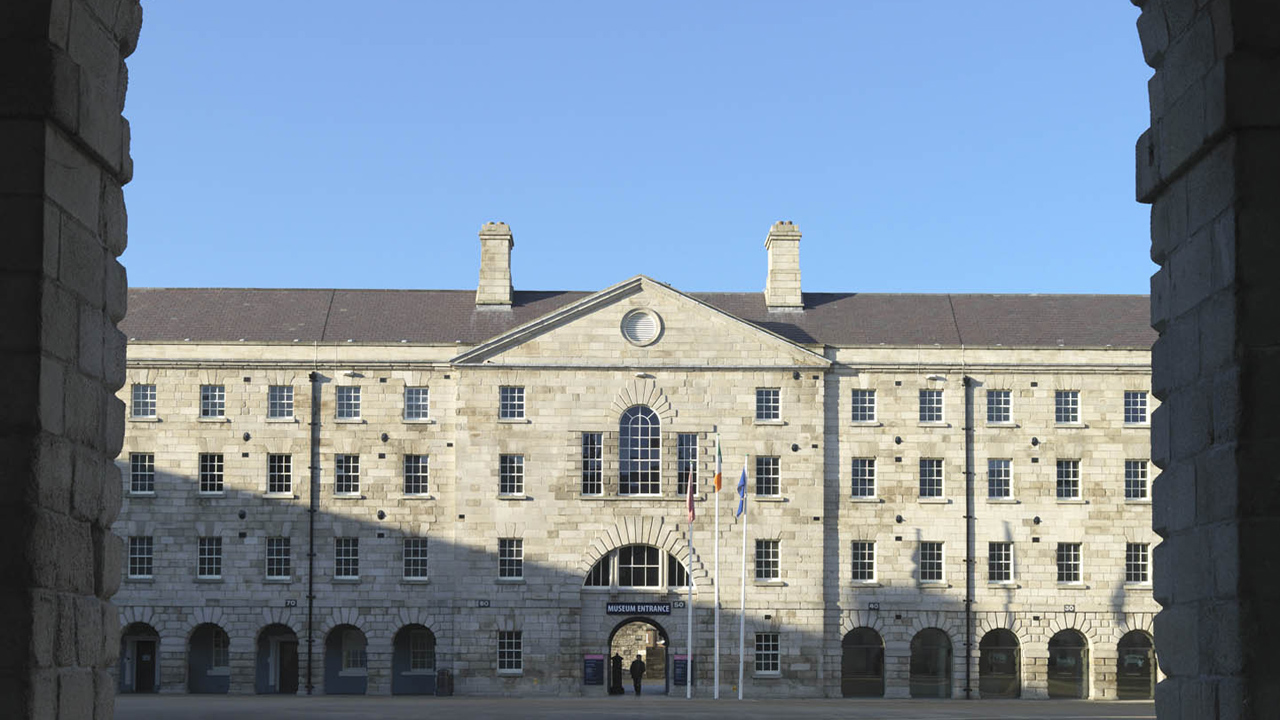 National Museums - Narrating the Nation
A two-day international conference organised by the National Museum of Ireland and the National College of Art and Design, Dublin. Friday 29 October and Friday 5 November 2021.
This conference will provide a forum for discussion of historic and current museum practices and debates in different national settings including New Zealand, Russia, Pakistan, Canada, Benin and Ireland. Our motivation in bringing together this wide range of experts is to learn how ideas of the nation have been materialised, collected, visualised, manufactured, articulated, displayed and performed in national museums in the past and in the present day.
A further aim is to speculate about the future role and strategies national museums might utilise in relation to contemporary debates about material heritage.
* Online (with some panels and talks streamed from the National Museum of Ireland, Collins Barracks, Dublin).
* To register, please click on the two links below (separate registration is required for each day).
* Free. Open to all.

PROGRAMME (all times Irish Standard Time / UTC +1)

FRIDAY 29 OCTOBER 2021
To register for all the events on Friday 29 October 2021 go to this LINK
10.00 Welcome by Lynn Scarff, Director of the National Museum of Ireland and Dr Lisa Godson, programme leader, MA Design History and Material Culture, National College of Art and Design.
10.15-12.30 Panel 1 – National Museum of Ireland: Past, Present and Future chaired by Brenda Malone, NMI.
Battle Trophies, Personal Relics, and a Commissioned Canoe: Irish Colonial Collecting in the National Museum of Ireland
Rachel Hand, Museum of Archaeology & Anthropology, University of Cambridge
Folklore Collectors and Ethnologists: Material Culture and the Work of the Irish Folklore Commission
Dr Críostóir Mac Cárthaigh, National Irish Folklore Archive
Inheriting the National Museum
Professor Elizabeth Crooke, University of Ulster
Past Actions, Present Opportunities: The Natural History Museum in the Nineteenth Century
Dr Sherra Murphy, Dún Laoghaire Institute of Art, Design and Technology
12.30 Break
14.00-15.30 Panel 2 – Museums and Politics Today chaired by David Crowley, NCAD
Crushing Culture, Dismantling Defiance: the Politics of Mesopotamian Museology
Isra Samara Saymour, Department of Sociology, University of Toronto
Russia—My History: A Participatory Museum or a Disciplinary Institution?
Alina Parker (Ryabovolova), University of Massachusetts Amherst
Holy Heritage, Secular Symbol: Hagia Sophia and Narratives of National Identity in the Republic of Turkey
Dr Gregory Goalwin, Assistant Professor and Chair of the Department of Sociology at Aurora University in Aurora, Illinois, USA
15.30 Break
16.00-17.30 Panel 3 – Museums After Conflict chaired by Audrey Whitty, NMI
For the Museum Yet-to-Come: Preserving Non-National Memory in Lebanon
Dr Renée Ragin Randall, Postdoctoral Fellow at the University of Michigan-Ann Arbor
The (National) Key Problem of Sarajevo's Lock-Down of Cultural Institutions from 2011
Sandra Bradvić, art historian, curator and art critic
Sites of Contested National Identity and History: Peace Museums
Dr. Joyce Apsel, Clinical Professor, Liberal Studies, College of Arts & Sciences, New York University
17.30 Break
18.00-19.30 A Nation's Story is Many Stories
Keynote lecture from Dr Michèle Gates Moresi, Curator of Collections, Smithsonian National Museum of African American History and Culture
FRIDAY 5 NOVEMBER 2021
To register for all the events on Friday 5 November 2021 go to this LINK.

9.00-10.00 Arapata Hakiwai, Museum of New Zealand Te Papa Tongarewa, in conversation
with Brian Crowley, Collections Curator, Kilmainham Gaol Museum, Dublin
10.00-12.00 Panel 4 - Museums in Ireland – Communities and Difference chaired by Gina O'Kelly, Irish Museums Association
On the Irish Traveller Community and Museums
Rosa Meehan, curator at the National Museum of Country Life and Oein DeBhairduin, researcher and community activist
Making the Future: Creative Approaches to Dealing with the Legacy of the Past
William Blair, Director of Collections at National Museums NI, and Hannah Crowdy, Head of Curatorial at National Museums NI
A Subversive Shrine: Alternative histories in Kilmainham Gaol
Brian Crowley, Collections Curator, Kilmainham Gaol Museum, Dublin
12.00-12.30 Break
12.30-13.30 Rethinking Rural Life: Materiality and The Question of Racial Capitalism in the Museum
Keynote lecture from Professor Wayne Modest, Director of Content National Museum of World Cultures, Wereldmuseum Rotterdam and Head of the Research Center for Material Culture
13.30-14.30 Break
14.30-16.30 Panel 5 - Museums in Post-Colonial Societies chaired by Dr Lisa Godson, NCAD
'World Cultures' in the North: Histories of Representation in National Museums NI
Dr Briony Widdis, ESRC-funded Postdoctoral Fellow, Queen's University Belfast
Nation Building and Lahore Museum (1947-2000)
Komal Afzaal, History Department, Government College University Lahore
The National Gallery of Canada- Settler-Colonial Myth-making and Decolonization
Dr Anne Dymond, Associate Professor of Art History/Museum Studies, The University of Lethbridge, and Dr Devon Smither. Associate Professor of Art History/Museum Studies at The University of Lethbridge
Politics and Pride: The Historic Museum of Abomey (Benin)
Dr Lynne Ellsworth Larsen, Assistant Professor of Art History, University of Arkansas at Little Rock
16.30-17.00 Break
17.00-18.30 Counter-Conduct in The Museum or the Practice of Academic Iconoclasm
Keynote lecture from Professor Clémentine Deliss, Global Humanities Professor of History of Art, University of Cambridge
This conference is an outcome of a strategic partnership between the National Museum of Ireland and the National College of Art and Design, a collaborative project that has enriched both institutions through student projects, research initiatives and joint public events.

The conference is convened by colleagues across both institutions: David Crowley, Head of Visual Culture (NCAD), Lisa Godson, Programme Leader of MA Design History and Material Culture (NCAD), Brenda Malone, Curator of Military History, Arms and Armour, Flags, Banners and Transport (NMI) and Audrey Whitty, Deputy Director/Head of Collections and Learning (NMI)