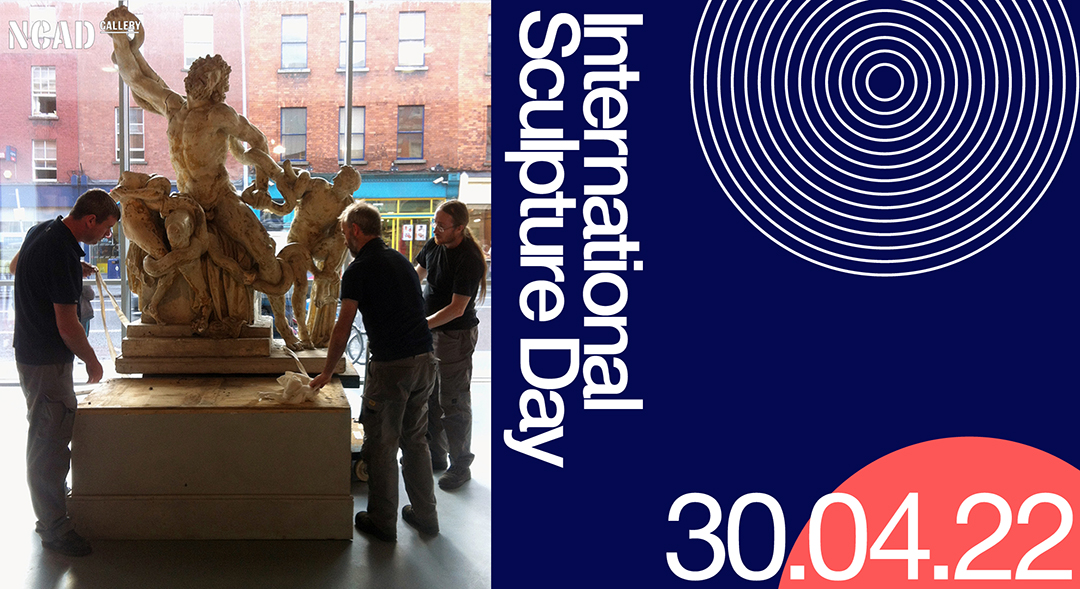 International Sculpture Day
Saturday 30 April 2022 is International Sculpture Day and Sculpture Dublin is encouraging a city-wide focus on sculpture on this day. Arts organisations across the city are putting a focus on sculpture for International Sculpture Day through exhibitions, special events, tours, talks, promotional videos and by highlighting aspects of their programmes and collections. Full programme details can be found at this LINK.
Talk Event: Towards a Newer Laocoön
Location: NCAD Gallery, 100 Thomas Street, Dublin D08 K521, Ireland.
Time: 10AM-11AM, Saturday 30 April 2022. NCAD Gallery is open until 2PM in the afternoon.
Access: 20 places, booking confirmation via gallery@staff.ncad.ie
Speaker: Anne Kelly, is a new researcher and curator of the NCAD Gallery, National College of Art and Design, Ireland.
This year the NCAD Gallery is participating with the talks event, Towards a Newer Laocoön at 10am on site and in person through booking confirmation via gallery@staff.ncad.ie. The focus of the talk is the National College of Art and Design's (NCAD) collection of remnant classical sculpture casts, objects, and artefacts, in particular their provenance and purpose. Further to this, our sculptural lineage is tracked through contemporary works and their place in public life today.
Notes on the event's title: 'Towards a Newer Laocoon' (1940) is an essay by critic Clement Greenberg, first published in the Partisan Review. The title references the text 'Laocoon: An Essay on the Limits of Painting and Poetry' (1766) by Gotthold Ephraim Lessing and 'The New Laokoön' (1910) by Irving Babbitt. This talk event's title borrows from the artwork title by the same name, Towards a Newer Laocoön by artist Sarah Pierce, previously presented in the NCAD Gallery in 2012, that looks at these legacies via the art academy and student protest.
Image Credit: Laocoön & His Sons (plaster cast), 193h x 165w x 88d cm, plinth 101.5h x 175w x 89d cm, NCAD Collection. Photography: Anne Kelly, NCAD Gallery, 2012, during the installation set-up for Pierce's Towards a Newer Laocoön exhibition.