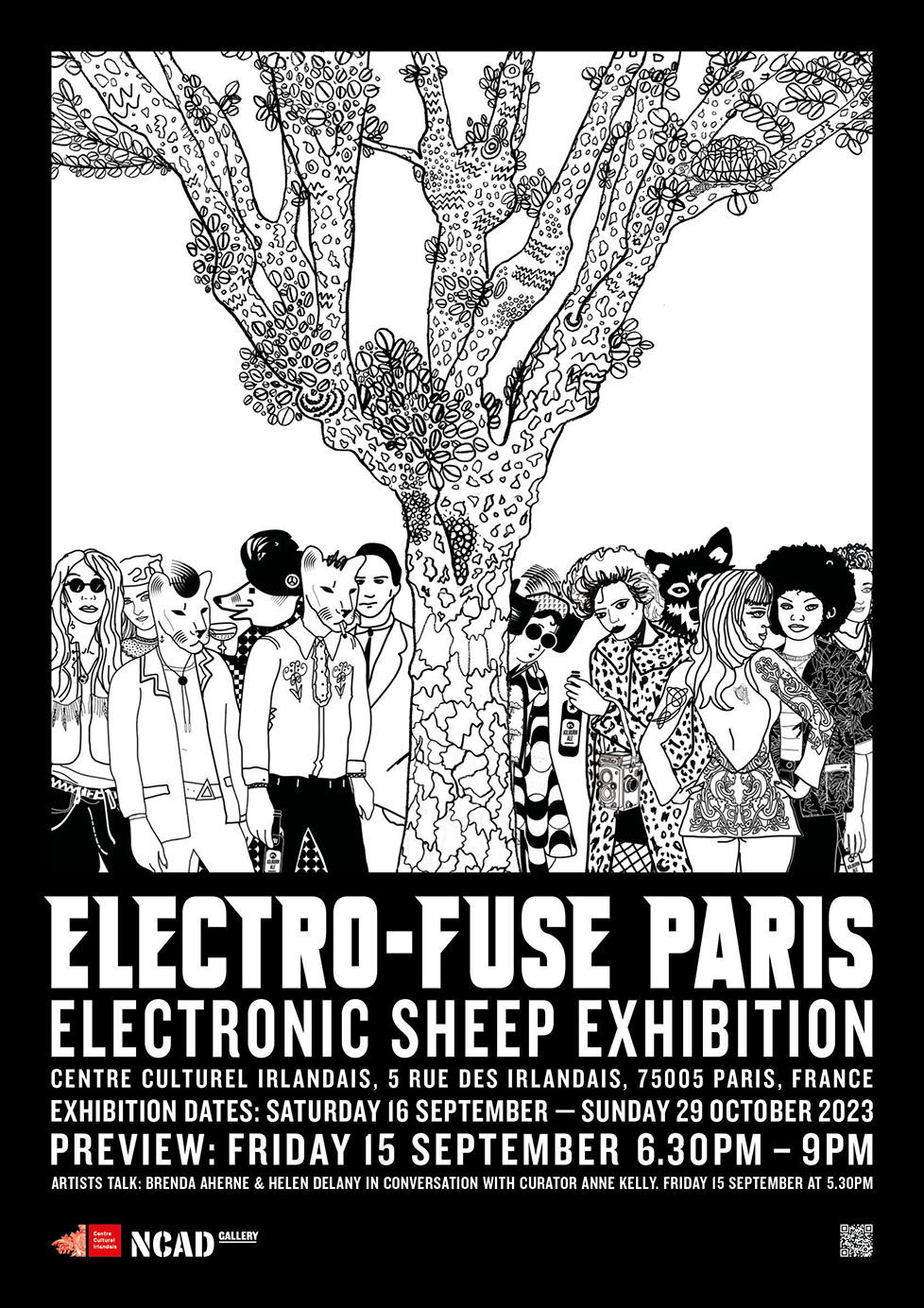 The NCAD Gallery presents the touring exhibition ELECTRO-FUSE at the Centre Culturel Irlandais, Paris's (CCI) 'Galerie' exhibiting a number of textile artworks by renowned textile design artists and NCAD alumnae Brenda Aherne and Helen Delany (Electronic Sheep). Works include Notifications Off, a knitted tapestry that examines changing perceptions about the common experience of mental health. The work weaves in a range of people including artists and cultural figures who have kindly contributed to its creation – Gavin Friday, Róisín Murphy, Aisling Bea, Vince Power and Laura Whitmore. A year in the making, the textile is one of their largest pieces of work to date and is a hybrid of pencil/digital drawings executed in their signature Electronic Sheep style.

Exhibition curator: Anne Kelly, NCAD Gallery, Dublin.

On the opening night, at 5.30pm, Brenda Aherne and Helen Delany 'walk-through' their work in conversation with NCAD Gallery Curator, Anne Kelly (admission free, reservation recommended, in English).
Vernissage vendredi 15 septembre de 18h30 à 21h, entrée libre

Du samedi 16 septembre au dimanche 29 octobre 2023. Entrée libre.
lun-dim : 14h-18h
merc : 14h-20h
En résonance avec les thèmes explorés par Colin Martin dans son exposition Empathy Lab, le duo Electronic Sheep - constitué des artistes multidisciplinaires reconnues Brenda Aherne et Helen Delany, toutes deux anciennes élèves, respectivement en communication visuelle et mode, au National College of Art and Design, Dublin - présentera une sélection d'œuvres textiles dans la galerie attenante à la salle d'exposition. Parmi elles, Notifications Off, une tapisserie mettant en scène des lieux, personnes ou objets qui nous apportent de la joie en ces temps difficiles. Ouvrant une réflexion sur le rapport entre technologies et santé mentale, ce travail représente des figures associées à la création même du jacquard, tels les chanteurs Gavin Friday et Róisín Murphy ou encore l'actrice Aisling Bea.

Curatrice de l'exposition : Anne Kelly, NCAD Gallery, Dublin

Avant le début du vernissage, à 17h30, conversation 'itinérante' entre les artistes Brenda Aherne, Helen Delany et la commissaire de l'exposition Anne Kelly (entrée libre, réservation conseillée - en anglais).