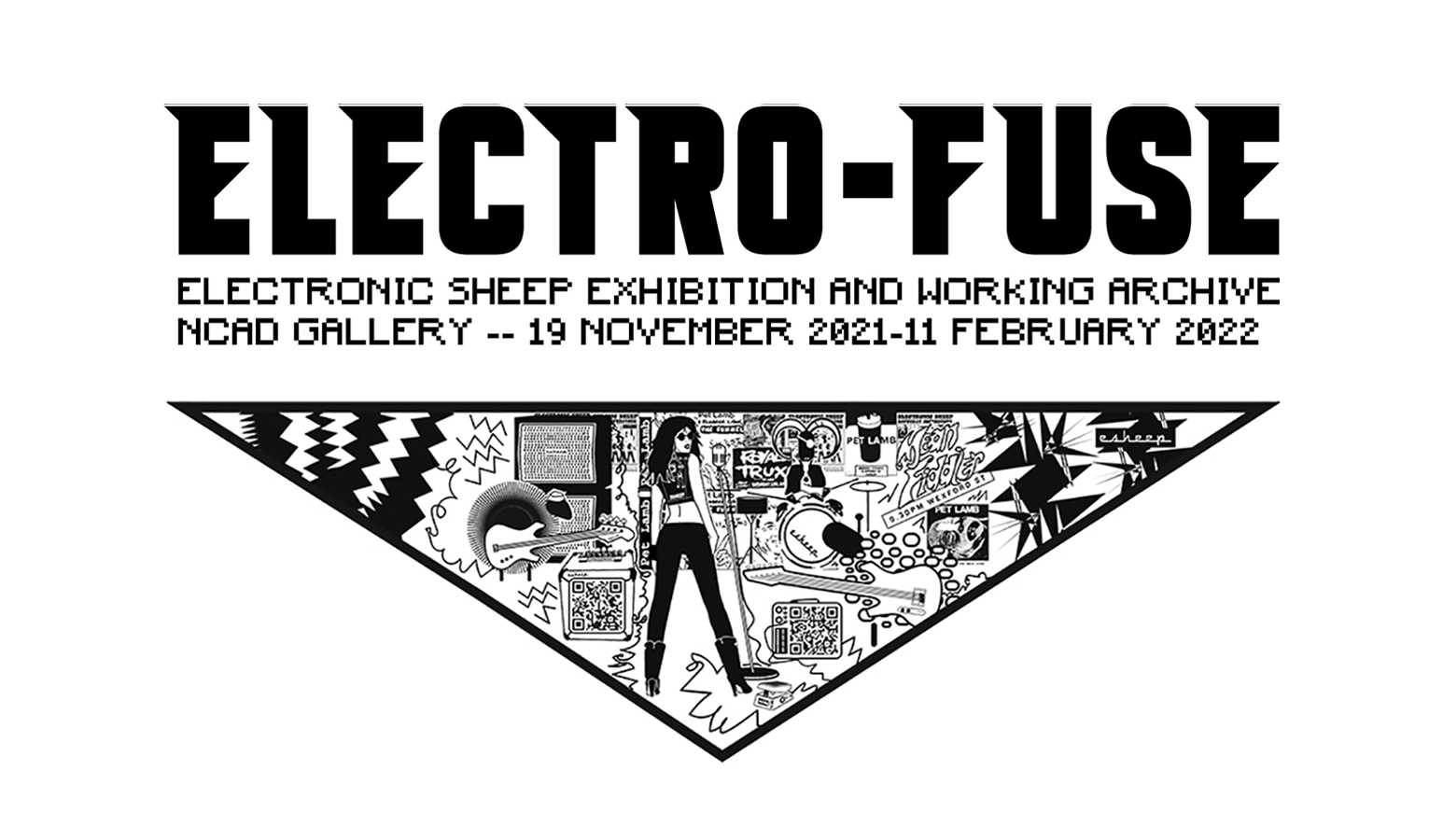 EXHIBITION PROGRAMME
NCAD GALLERY opening times: Monday—Friday, 11AM—6PM.
EXHIBITION :: Friday 19 November 2021—Friday 28 January 2022 >> Exhibition dates extended to Friday 11 February 2022.
ONLINE EVENT :: Electronic Sheep In Conversation w/ Dress Historian, Hilary O'Kelly & Curator, Anne Kelly, took place on Thursday 9 December 2021, 4PM (UTC). This talk is available to view on YouTube at this >>> LINK <<<

NCAD Gallery presents the ELECTRONIC SHEEP duo of Brenda Aherne and Helen Delany with their exhibition, Electro-Fuse, 19 November 2021–11 February 2022. The internationally renowned designers have worked together since 1998, creating illustrative and typographic knitwear/jacquards based on narrative storylines that draw on their own personal lives while simultaneously reflecting a wide range of social, cultural and political moments. Electro-Fuse captures an edit of knitwear and archive from this prolific practice that includes the design for the newly-commissioned The Kilburn Tapestries, and the premiere of their 2021/22 Electro–Fuse collection.
We are first greeted at the exhibition entrance by a retrospective of iconic triangle scarves and garments from the Electronic Sheep archive. Passing underneath swathes of textiles from the foyer to the larger exhibition space, we encounter collaborations with artists, designers, musicians and stylists, showcasing a curated selection from their body of work to date (1998–2021), including the 2021/22 Electro–Fuse collection.
Electro-Fuse is populated with scenes from the eponymous 'Electronic Sheep' comic – first created in 1998 – fusing a mix of their original stories with new tales reminiscing on nights out in familiar music venues across London, Dublin and New York. Gig flyers, fanzines, posters and tickets that the duo have collected over the last 30 years are spliced together with their detailed drawings based on actual events. In presenting contemporary work and archival material from these NCAD Alumni, this exhibition time also represents an opportunity to collate, process and catalogue the Electronic Sheep archive in situ at the NCAD Gallery.
In 2022, the NCAD Gallery will bring the Electro-Fuse exhibition to Centre Culturel Irlandais, Paris curated by Anne Kelly, Curator, NCAD Gallery.
STAYING SAFE ↓
The NCAD Gallery is open again. We can't wait to welcome you back! 
Here are some things for you to consider, before you visit, to ensure you have a safe and enjoyable experience in the Gallery. The safety of our visitors and staff is our paramount concern. We have been working hard behind the scenes to put measures in place to ensure that you can enjoy your visit to the NCAD Gallery safely and peacefully.
Visiting the Gallery - Contact tracing Visitors do not need to make a reservation unless a group of 6 or more is planning to visit the Gallery at any one time. If you wish to make a group booking please email gallery@staff.ncad.ie and include the subject line: Group Booking. Thank you.
To help to ensure a safe controlled environment for our visitors, all visitors will be asked for certain mandatory contact information, including your email address on entry to the Gallery. In the event of an outbreak of COVID-19 in the Gallery, the Gallery is obliged, under HSE guidelines, to share the following information with the HSE for contact tracing purposes:
your name
the number of guests in your party
a telephone number
the date of your visit
This information may be shared with the HSE for up to 30 days following your visit. Please note that no other information will be shared by the Gallery with the HSE. Personal data will be retained in accordance with data protection law. 
Download the HSE COVID Tracker app Before you visit, we suggest that you download the HSE COVID Tracker app.
Please do not visit the Gallery if any of the following apply to you:
If you are feeling unwell or are experiencing any symptoms of COVID-19If you are awaiting the results of a COVID-19 test.
If you are self-isolating or restricting your movements.
If you have been diagnosed with confirmed COVID-19 infection in the last 10 days.
If you are a close contact of a person who is a confirmed case COVID-19 in the past 14 days (i.e. less than 2m for more than 15 minutes), or of someone who is awaiting a test result.
If a doctor has advised you to isolate or cocoon.
If you have returned from international travel and are not in compliance with government guidance
Group Numbers Up to thirty-four individuals can visit the Gallery space at the same time.
One-way system There is a one-way system through the building. Please keep to the left and follow the yellow floor signage which will guide you on your visit.
If you feel ill while in the Gallery Please ensure that you are wearing your mask, and notify a Gallery staff member or NCAD Security attendant while keeping a 2-metre distance from other visitors and staff. The attendant will contact a Gallery First Aid Responder who will bring you to an isolation room for assessment.
Thank you for wearing a face covering Face coverings are mandatory in a number of indoor spaces around Ireland, including galleries. Please refer to the government guidelines for more information.
Hand sanitiser Please use the hand sanitiser which is available at the entrance and exit, and throughout the Gallery.
Social distancing Please follow the directions of our staff, observe social distancing guidelines, and respect any maximum capacity signage that you see.
ONLINE EVENT :: Electronic Sheep In Conversation w/ Historian, Hilary O'Kelly & exhibition Curator, Anne Kelly, Thursday 9 December 2021, 4PM (UTC) YouTube >>> LINK <<<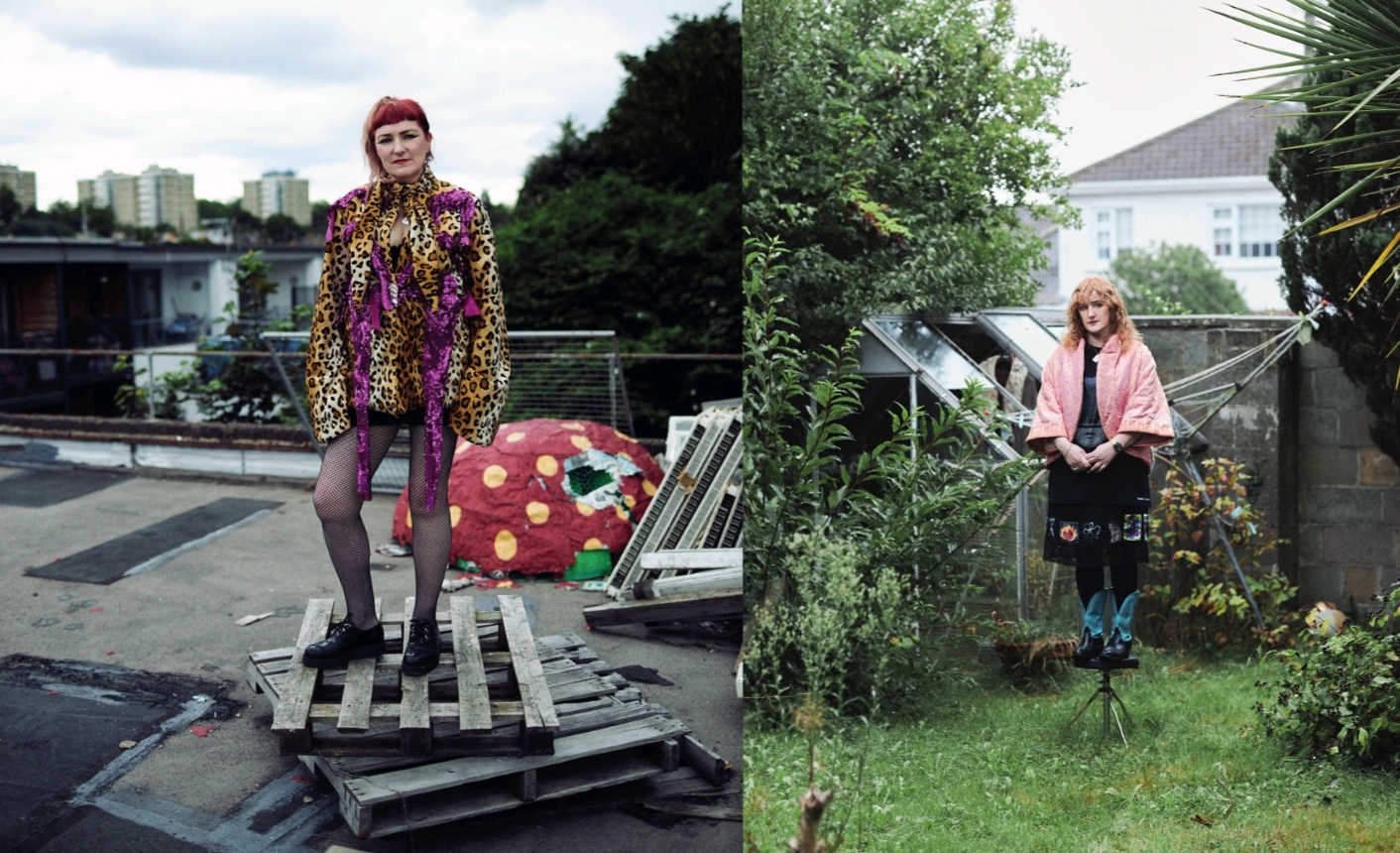 ELECTRONIC SHEEP Childhood friends Brenda Aherne and Helen Delany graduated in 1992 from NCAD in Fashion and Visual Communication respectively. Individually, the designers enjoyed prestigious industry experience in London, New York, Rome and Munich before joining forces in 1998. Initially funded by a start-up Guinness award 'The Hudson Blue' for innovation in knitwear technology, Electronic Sheep has developed into a label specialising in unisex graphic knits. Their signature style has appeared in i-D, Vogue, Grazia, Elle and Kaltblut, among other international style bibles. Based in London and Dublin, they have regularly exhibited at London Fashion Week since 2011 and at Paris Fashion Week in 2018, and are currently distributing to independent sellers throughout the UK, Europe and Japan.
Hilary O'Kelly is a lecturer at the National College of Art and Design, Dublin, is a dress-historian teaching and writing on the visual & material culture of Irish and Western European dress. Having published the history of Irish knitwear company Cleo (2014, Associated Editions), with the support of the Golden Fleece Award.
~
Exhibition Image credit: Illustration, EF3-A, The Mean Fiddler 9.30pm Wexford St triangle scarf. size 188cm x 60cm, yarn100 merino wool. © 2021 Electronic Sheep.
ACKNOWLEDGEMENTS In the making of this exhibition the NCAD Gallery would like to acknowledge fantastic support received from the NCAD Departments of Fine Art Print, in our commissioning of work by 3rd Yr. Print student, Amy Kiernan; Fashion, Textiles & Surface Design in facilitating display loans: Denise Beck, Print Technical Officer, and Isabelle Peyrat, Glass technician for her time and expertise. For their exhibition installation assistance, our thanks to Delany Bowes, 1st Yr. NCAD, John Kellegher, 3rd Yr. Fine Art Paint, Tom Simms, Studio + Product Design and special thanks to the NCAD Facilities & Attendance Staff.