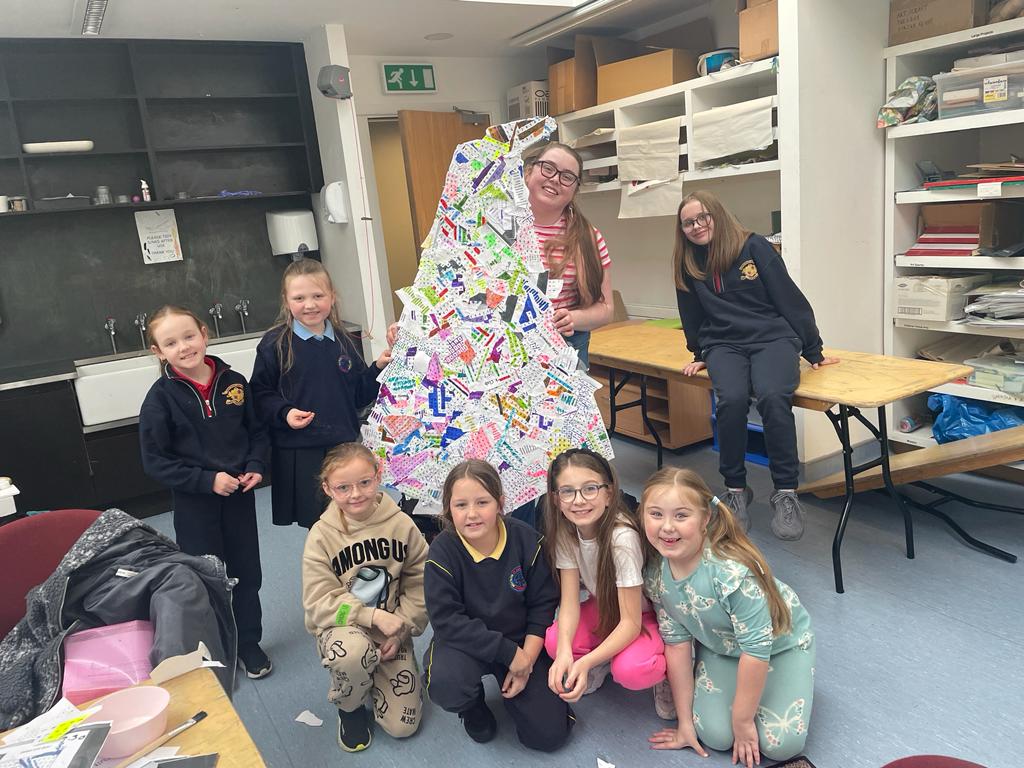 Awarding the Everyday: Fatima Homework Club & NCAD student Emma Brennan.
Awarding the Everyday celebrates the small, day-to-day achievements in children's lives that can often go overlooked or undervalued. The project aims to promote the strengths, skills and pride of children and their community.
Awarding the Everyday is a collaboration between Fatima Homework Club and NCAD student Emma Brennan, made possible through NCAD's Dublin 8 Neighbourhood Residency, NCAD Access and presented in the NCAD Gallery as part of the Dublin City Learning Festival 2023.

Young Artists
Focus Group: Priya Cusack, Cici Byrne, Ashley Mooney, Lily Hudson, Darcie Slattery, Aoibheann Mannion, Lottie Delaney, facilitated by Shauna O'Brien.
Junior-Senior Infants: Remy Howe, Fletcher Kelly, Theo Henderson, Mila Reid, Pamela Chalk, Shadiy Kurzac, Kenzie Byrne, Layla Costello, Bella Massey, Sunnie Carrol, Alden Rankin, Darla Brophy, Rosie Doyle, Elsie Dumbrell, Billy Grimes, Tilly Brannigan, Cherry Cassidy, Nadya Kurzac, Freya Dunphy.
1st, 2nd and 3rd Class: Frankie Kane, Blair Brophy, Skylar McIntyre, Kendall Byrne, Effie Dumbrell, Cici Byrne, Priya Cusack, Shiann Lynch, Kealin O'Brien, Arthur Cox, Isabella Foran, Lottie Delaney, Aoibheann Mannion, Harper Farrell, Darcie Slattery, April Dickens, Eve Byrne, Perrie Walker.
4th, 5th and 6th Class: Jamie Mae Butler, Ashley Mooney, Nevaeh Roche, Isabella Grimes, Magda Zafer, Lily Hudson, Bella Farrell, Laney Kane, Luke Mooney, Harrison Cassidy Kelly, Lara Byrne, Penny Kavanagh, Harlow Kavanagh.
Enquiries please email contact NCAD Access Officer, Finola McTernan or Caelainn Kerrigan at access@staff.ncad.ie

Emma Brennan is a student in the BA Fine Art Print at NCAD whose practice is concerned with examining stereotypes and assumed social roles, particularly in the context of motherhood, Irishness, and the female experience. Since Autumn 2022 she has been working collaboratively with the staff and children of Fatima Homework Club which has seen her practice develop to include collaborative processes and engage with themes of place, community and celebration. Dublin 8.
Dolphin and Fatima Homework Clubs are programmes of Rialto Youth Project which concentrate on Homework Support and Arts-based programmes. We recognise that while supporting young people, it is essential to assist them in learning six basic skills. We believe that when young people acquire those skills they become more independent in their work and more self-directing in their lives.
The Dublin 8 Neighbourhood Residency is a programme of NCAD's Studio+ year, which sees students immersed off campus in the Dublin 8 area, working with local partners to engage in community-based collaborative arts processes.
NCAD's Access Programme collaborates with schools and community partners in delivering a range of innovative programmes that seek to provide experiential art and design opportunities for engagement with NCAD, promoting awareness of and pathways to higher education in art and design.
.
The artist wishes to thank to NCAD staff: Anne Kelly, Fiona Whelan, Finola McTernan and Caelainn Kerrigan; Fatima Homework Club staff Shauna O'Brien, Sue Fagan, Sharon Cooney, Stacy Nicholson, Victoria McDonnell and Michelle Dunne; and Peter Brennan for carpentry support.