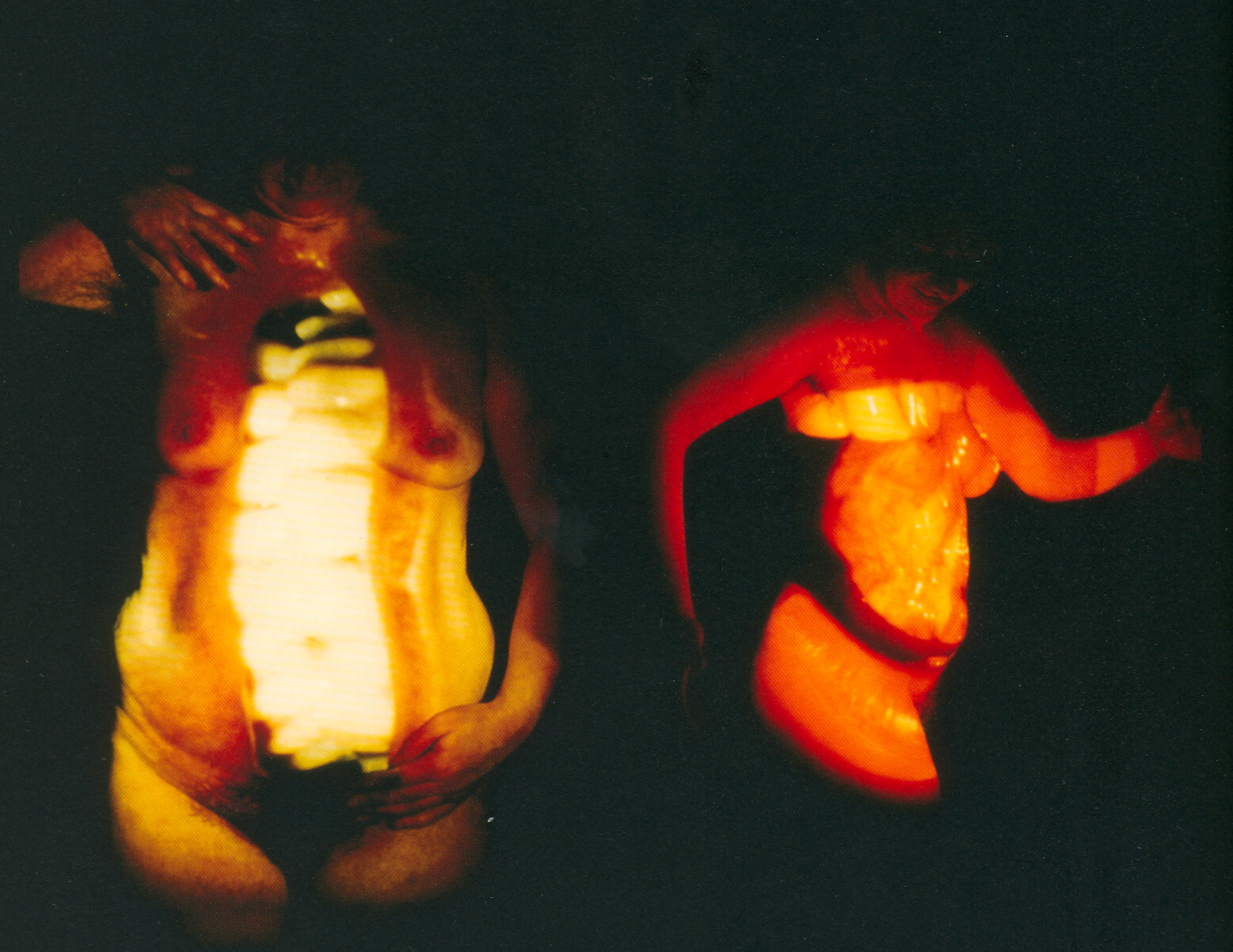 The events in the final week of the Aftereffects and Untold Histories programme considered the intergenerational legacies of the 1990s through contemporary practices and institutions.


DISCUSSION: Intergenerational legacies
Isadora Epstein, Brian Hand, Léann Herlihy, Sara Muthi
Thursday 13th May, 4pm - 5:30pm
The final week of the programme reflected on the legacies of Irish performance art in the 1990s for subsequent generations of practitioners. Curator and writer Sara Muthi led a roundtable discussion featuring artists Isadora Epstein, Brian Hand, and Léann Herlihy.
About the speakers:
Isadora Epstein ↓
Isadora Epstein is an emerging artist and performer working in Dublin. She writes her performances from her research of art history and mythology. She has had performances at IMMA, RHA, Temple Bar Gallery + Studios, Ormston House, and KuVa Exhibition Lab, Helsinki. She is currently a recipient of the Fire Station Artist Studios Digital Media Award.
Brian Hand ↓
Brian Hand's art practice is broadly concerned with creatively exploring and researching events, spaces, agents and ideas from the past. Hand has made many temporary public works and time-based installations often in site-responsive ways. In the past, he believes, we can find alternative images that disrupt the naturalness of the present. Hand has worked on several collaborative projects with Orla Ryan. In the 1990s, Hand co-founded Blue funk, worked on the design of
the Famine Museum in Strokestown Park, and was a recipient of the PS1 international studio residency and the Arts Council's critical writing bursary. Hand was curator of Critical Voices 2, worked for many years in Wexford, and is currently Head of Department of Sculpture and
Expanded Practice at NCAD.
Léann Herlihy ↓
Léann Herlihy is a Live-Action Artist based in Dublin. Pairing gestures with in-depth research, their practice is politically engaged and reflects on queer identity and the reclamation of space for socially peripheral voices.
Recently, they were awarded a Project Studio at Temple Bar Gallery + Studios. In 2020, they were selected as Artsadmin & Steakhouse Live's artist-in-residence for the durational performance event Slow Sunday in Toynbee Studios, LDN. Solo shows include STUNTMAN (2020) ]performance space[, LDN; Trojan Horse (2019) Stroboskop Art Space, PL; the child She didn't want, but the State did (2018) the Complex, IRE. Recent group shows include BIFPA (2021) Ulster University, NI; Foreign Bodies (2019) Zachęta, PL; and Biennale Warszawa (2018) PL. In 2020, Léann completed a Masters in Gender Studies at University College Dublin.


Sara Muthi ↓
Born in Transylvania, Romania, Sara Muthi is a Dublin based curator, writer and teaching assistant in the department of Philosophy at Trinity College Dublin. She is an NCAD graduate currently undertaking an MPhil in Philosophy. Recent projects include Foreignments (2020) exhibited at The Lab Gallery and Post-Dance (2019) commissioned for the Project Arts Centre developed during her INCUBATE residency at Draíocht. As managing editor of in:Action, she commissions critical writing on Irish performance art while developing events such as Anticipation: Actualisation (2018) held at the NCAD Gallery.

PERFORMANCE: Spectral
Maïa Nunes
Friday 14th May, 8pm - 8:30pm
Maïa Nunes presented Spectral, a new performance at NCAD Gallery, specially commissioned for Aftereffects. Informed by and paying homage to Black feminist theory and Queer of Colour critique, Nunes' work explores the concept of cultural amnesia, in particular the violent erasure of queer stories by colonialism. The artist has been working with their mentor Simone Niles during lockdown to access the healing properties of sound, whereby resonance and frequency are used to shift energies and reconnect with the self. For this performance, Nunes drew on the meditative potential of sound, using an improvised singing practice and vocal projection to embody themes of haunting and disrupt oppressive silence.
Spectral was streamed live from Trinidad and Tobago on YouTube and projected onto the window of NCAD Gallery in Dublin, where it was visible to passersby. With the projection of their disembodied image, Nunes proposes an analogue for non-binary, genderqueer and trans identities, making a fleeting, spectral appearance on Thomas Street for the duration of the performance.
About the performer:
Maïa Nunes ↓
Maïa Nunes (they/them) is a performance artist of Trinidadian descent. Their performance practice explores ambiguity as the site of transformative potential, ritual as healing for the afro-diaspora, and song as liberation practice. This work so far includes three major performance projects: performance series WISH, WAYS TO LOVE ME, and INCANTATION presented at Dublin Fringe Festival 2019. Maia spent the beginning of 2020 as artist-in-residence at The Alice Yard in Trinidad and Tobago, and is a recent recipient of the Wicklow Arts Office Artist Support Award and the Irish Arts Council's Visual Arts Bursary Award. Most recently, Maïa's first video performance work ARIMA was exhibited as part of ALTERNATELY TERRIFIC and Gentle, a suite of dance and performance works commissioned by Liz Roche Dance Company.
Maia is also co-founder of Origins Eile, a grassroots organisation, centring the safety and experiences of QTIBPOC in Ireland. In 2020 Origins Eile ran a small program of events entitled DESTINY: A Constellation of Queer Afro-Futurist Visions as part of Dublin Fringe Festival 2020, and launched a new Black Queer publication called TONGUES in association with Black Pride Ireland.

DISCUSSION: Institutional legacies from the 1990s
Amira Akbıyıkoğlu, Sebastian Cichocki, Annie Fletcher, Sarah Glennie
Saturday 15th May, 2pm - 3:30pm
A live Zoom panel discussion, featuring representatives from L'Internationale partner institutions, looked at the legacy of institutions established in the 1990s in the context of IMMA's 30th birthday celebrations. Chaired by Sarah Glennie, NCAD, speakers included Annie Fletcher, Irish Museum of Modern Art, Dublin; Sebastian Cichocki, Curator at Museum of Modern Art, Warsaw and Amira Akbıyıkoğlu from SALT Galata, Istanbul.

NIVAL ARCHIVAL SELECTION
This week's selection, curated by Jennifer Fitzgibbon, presents some of the documentation from NIVAL's holdings on the Irish Museum of Modern art and other Irish art organisations that sustained performance through institutional support and collecting. Material from the Dorothy Walker Collection highlights how events such as Rosc were instrumental precursors to the establishment of IMMA.
About NIVAL: ↓
The National Irish Visual Arts Library (NIVAL) is a public research resource dedicated to the documentation of 20th and 21st century Irish visual art and design. NIVAL collects, stores and makes accessible for research an unparalleled collection of documentation about Irish art in all media. NIVAL's performance art collections consist of files on artists, subjects and venues as well as Special Collections on artists such as Brian Connolly and organisations such as Women Artists Action Group and Temple Bar Gallery & Studios.
Housed in NCAD and resourced through a strategic partnership between NCAD and The Arts Council, NIVAL is committed to making our collections accessible to everyone for exploration, education and research. NIVAL sustains its collections through active collaboration with artists, designers and cultural organisations. Its collection policy includes Irish visual art from the whole island as well as Irish art abroad and non-Irish artists working in Ireland. Information is acquired on artists, designers, galleries, arts organisations and institutions, critics and other related subjects. The collection contains documentary material in all formats including books, catalogues, videos, slides, artists' papers and ephemera in print and digital format and is central to NCAD's commitment to supporting new thinking and research in the fields of contemporary art and design.