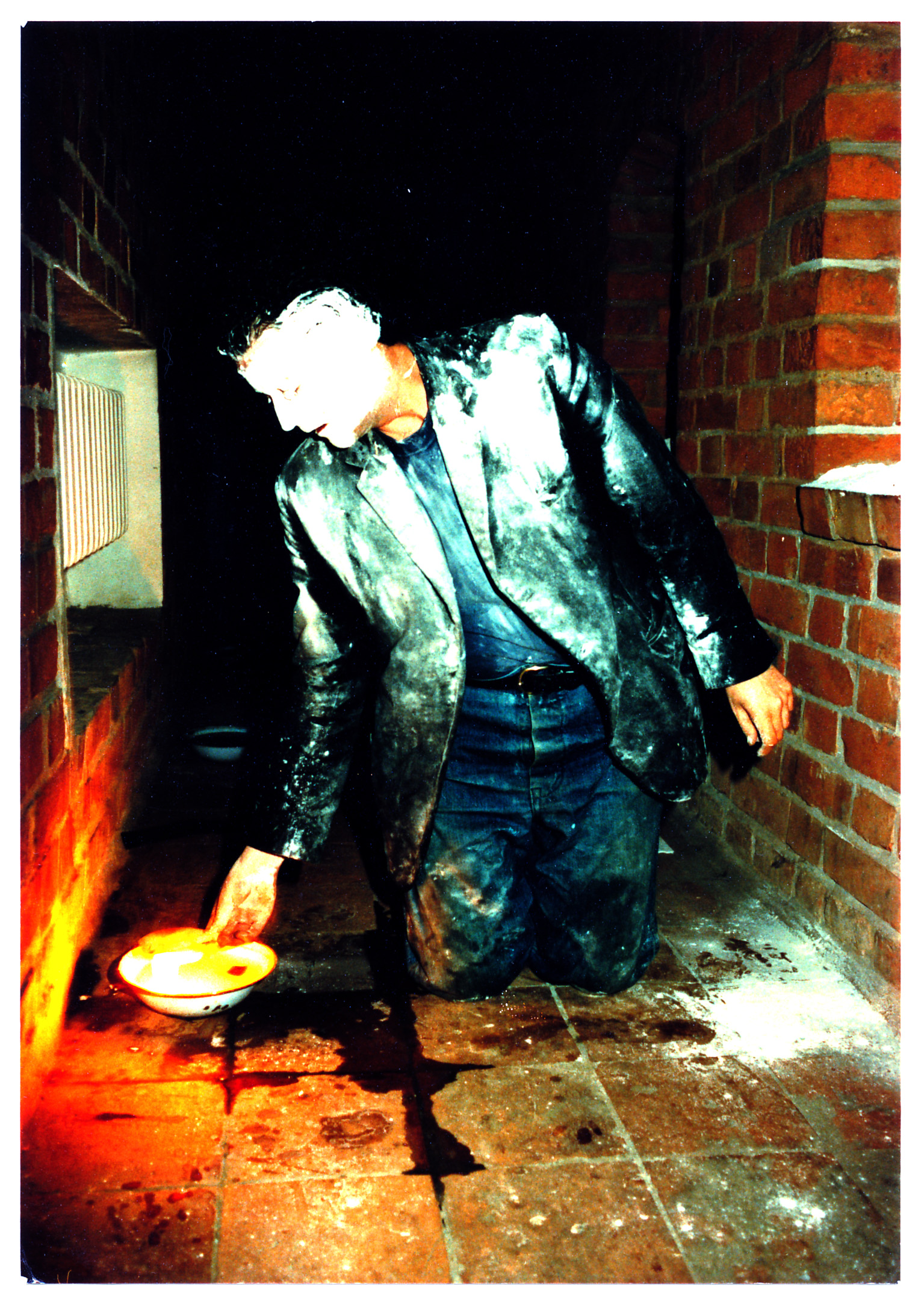 The events in the fourth week of the Aftereffects and Untold Histories programme explored activism and the archive.


DISCUSSION: Activism and the archive
Sara Greavu, Joanna Krakowska, Hannah Tiernan
Thursday 6th May, 7pm - 8pm
Activism and the archive was a live panel discussion event exploring performance art, gender, sexuality and activism chaired by curator Sara Greavu following the presentation of short papers from researcher and artist Hannah Tiernan about the LGBT Theatre of Project Arts Centre through the 90s, and theatre historian Joanna Krakowska on the role of performance and theatre in the rise of binary society in Poland after 1990.

About the speakers:
Sara Greavu ↓
Sara Greavu is the incoming Curator of Visual Arts at Project Arts Centre. She has an interest in how art can recognise existing social structures, propose alternative histories and genealogies, and prefigure different social relations. In 2019, in partnership with artist Andrea Francke, she developed Knowledge is Made Here, an alternative pedagogical practice, produced with queer, trans and non-binary young people. It's not for you we did it, a research project with artist Ciara Phillips for the 39th EVA International, deals with intertwined political and cultural initiatives in Derry in the 1980s.
Joanna Krakowska ↓
Joanna Krakowska is a theatre historian, professor at the Institute of Art of the Polish Academy of Science in Warsaw, and a deputy editor of "Dialog. Journal of Contemporary Drama". She recently published a book on the avant-garde queer performance in New York, Odmiencza rewolucja (2020); two volumes of the history of Polish theatre: PRL. Przedstawienia (2016), Demokracja. Przedstawienia (2019), and a three-volume edition of materials for the women's history of Polish theatre HyPaTia (2018). She is the co-editor of the English language anthology (A)pollonia. Twenty First Century Polish Drama and Texts for the Stage (2014) and Platform. East European Performing Arts Companion (2016). As a member of theatre collectives, she co-authored two theatre pieces: Kantor Downtown (2015) and Pogarda (Contempt, 2016).
Hannah Tiernan ↓
Hannah Tiernan is a researcher, writer and artist. She holds a BA in Photographic Media and an MFA in Art in the Contemporary World from NCAD. Her key area of interest is contemporary Irish LGBT history.
She is the lead researcher on the Queer-in-Progress. Timeline initiative at Project Arts Centre and is the editor of the Queer-in-Progress. Timeline: Online Archive. In 2019 she authored 'Foul, Filthy, Stinking Muck': the LGBT theatre of Project Arts Centre, 1966 - 2000. She was a researcher on the 2018 Active Archive - Slow Institution: Long Goodbye and is the creator of the Ranelagh/Rathmines Queer Walking Tour.

DISCUSSION: Active archives
David Crowley, Saskia Holmkvist, Lívia Páldi
Friday 7th May, 2pm - 3pm
In this event, artist and professor Saskia Holmkvist delivered a short paper on Back Translation, a study of performance art in alternative spaces by female artists in Belfast in the 1990s. Her work explores the ethics of renegotiating history when artists have opted to withdraw or disappear. Former Project Art Centre curator Lívia Páldi presented on Active Archive – Slow Institution, a major research and exhibition project exploring the multitude of histories of the Project Arts Centre, one of Ireland's oldest public art institutions. This was followed by a conversation between both speakers chaired by David Crowley analysing the changing conditions of artistic practice and how archives can be used to reconstruct art histories from a contemporary perspective.
About the speakers:
David Crowley ↓
David Crowley is the Head of the School of Visual Culture at NCAD. He is a curator and historian with a specialist interest in the culture of Eastern Europe under communist rule. His most recent show, Notes from the Underground. Alternative Art and Music in Eastern Europe 1968-1994 (co-curated with Daniel Muzyczuk in Łódź in 2016 and Berlin spring 2018) reflects his interest in the intersections of music and visual art. His book Ultra Sounds. The Sonic Art of Polish Radio Experimental Studio was published in 2019.
Saskia Holmkvist ↓
Saskia Holmkvist lives and works in Stockholm, Sweden and Oslo, Norway.
She is an artist and Professor of Contemporary Art at the National Academy of Fine Art in Oslo employing performance, orality and moving image. Her practice is concerned with translation processes and un-fixing historical narratives. She involves agencies and forgotten artist's performances as catalysts in activating dialogues, critical listening and oral speculation around contested history. Zooming in on gestures, fragments and distorting information to reconfigure histories, layered entanglements with performative translations is part of the aesthetic and theoretic fabric of her practice. More information about her work can be found at www.saskiaholmkvist.com
Lívia Páldi ↓
Lívia Páldi worked as Curator of Visual Arts at Project Arts Centre, Dublin between March 2017 and March 2021. She was the director of BAC – Baltic Art Center, Visby, Sweden between 2012 and 2015 and chief curator of the Műcsarnok / Kunsthalle Budapest between 2007 and 2011. She has organised talks, discussions, workshops and numerous exhibitions and has also edited several books and exhibition catalogues. She was one of the curatorial agents of dOCUMENTA (13) and a member of the OFF-Biennale Budapest curatorial board in 2016. In 2017, she initiated Active Archive – Slow Institution, a major research project with exhibitions and events that delves into Project's rich 50+year history, uncovering the history (or rather histories) of and related to one of Ireland's oldest public art institutions.

SIDEBAR CONVERSATION: Alternative space and club cultures
Leah Hilliard, Sarah Pierce, Niall Sweeney
Friday 7th May, 4pm - 5pm

In this sidebar event, artist Sarah Pierce chaired an intimate conversation with artist Leah Hilliard and artist and designer Niall Sweeney reflecting on the themes of the programme. The discussion touched on artist-led performative practice, alternative spaces and club culture.
To encourage the exchange of ideas, participants could join in the conversation and keep their cameras on for the duration of the event.

About the speakers:
Leah Hilliard ↓
Leah Hilliard is an artist, educator, researcher and cultural programmer whose art practice is based in performance and the power of conversation. She is a lecturer in the Media Department at NCAD, Dublin. She has a BA from NCAD and MSc. Computer Science, TCD. Back in the day, Leah was involved in the running of Powderbubble, nights of extravaganza and was the Artistic programme coordinator at Arthouse Multimedia centre for the arts, managing the stage production of The Alternative Miss Ireland; and working on Ireland's first global carnival, the Festival of World Cultures. Her experience in event management means she often has a power drill in her handbag, just in case.
Sarah Pierce ↓
Since 2003, Sarah Pierce has used the term The Metropolitan Complex to describe her project, characterised by forms of gathering, both historical examples and those she initiates. The processes of research and presentation that Pierce undertakes demonstrate a broad understanding of cultural work and a continual renegotiation of the terms for making art, the potential for dissent, and self-determination. Pierce works with installation, performance, archives, talks and papers, often opening these up to the personal and the incidental in ways that challenge received histories and accepted forms. Her interests include radical pedagogies and student work, art historical legacies and figures such as El Lissitzky, August Rodin, and Eva Hesse, and theories of community and love founded in Maurice Blanchot and Georges Bataille. She is based in Dublin.
Niall Sweeney ↓
Niall is one half of the London-based studio Pony Ltd, working internationally in art, design, print, theatre, film, performance, installation, nightclubbing, music, publishing and writing. He was no sooner out of school in Dublin when he started an eternal relationship with the transformational power of glorious outsiders and dressing up and having fun. From the first Alternative Miss Ireland in 1987 through to her last in 2012; licking 1990s Ireland into shape and into an unapologetic frock with GAG, POWDERBUBBLE and H.A.M.; and then on through the 2000s, with his ongoing collaborations with ThisIsPopBaby and the emergence of AMI and Panti as a combined national queer force. Club Chroma Chlorologia, his re-imagining of the formal gardens and grounds at IMMA, is currently underway.

NIVAL ARCHIVAL SELECTION
This week's selection from NIVAL, curated by Jennifer Fitzgibbon, focuses on some of the facilitators and protagonists in the field of expanded performance. Material from the Women Artists Action Group (WAAG) highlights issues of archiving ephemeral activities that are sometimes underground in nature. Documentation from artist-led groups such as Black Market International and exhibitions such as Irish Days highlights how these types of events were instrumental in creating opportunities for participation and collaboration in Ireland and abroad.
About NIVAL: ↓
The National Irish Visual Arts Library (NIVAL) is a public research resource dedicated to the documentation of 20th and 21st-century Irish visual art and design. NIVAL collects, stores and makes accessible for research an unparalleled collection of documentation about Irish art in all media. NIVAL's performance art collections consist of files on artists, subjects and venues as well as Special Collections on artists such as Brian Connolly and organisations such as Women Artists Action Group and Temple Bar Gallery & Studios.
Housed in NCAD and resourced through a strategic partnership between NCAD and The Arts Council, NIVAL is committed to making our collections accessible to everyone for exploration, education and research. NIVAL sustains its collections through active collaboration with artists, designers and cultural organisations. Its collection policy includes Irish visual art from the whole island as well as Irish art abroad and non-Irish artists working in Ireland. Information is acquired on artists, designers, galleries, arts organisations and institutions, critics and other related subjects. The collection contains documentary material in all formats including books, catalogues, videos, slides, artists' papers and ephemera in print and digital format and is central to NCAD's commitment to supporting new thinking and research in the fields of contemporary art and design.