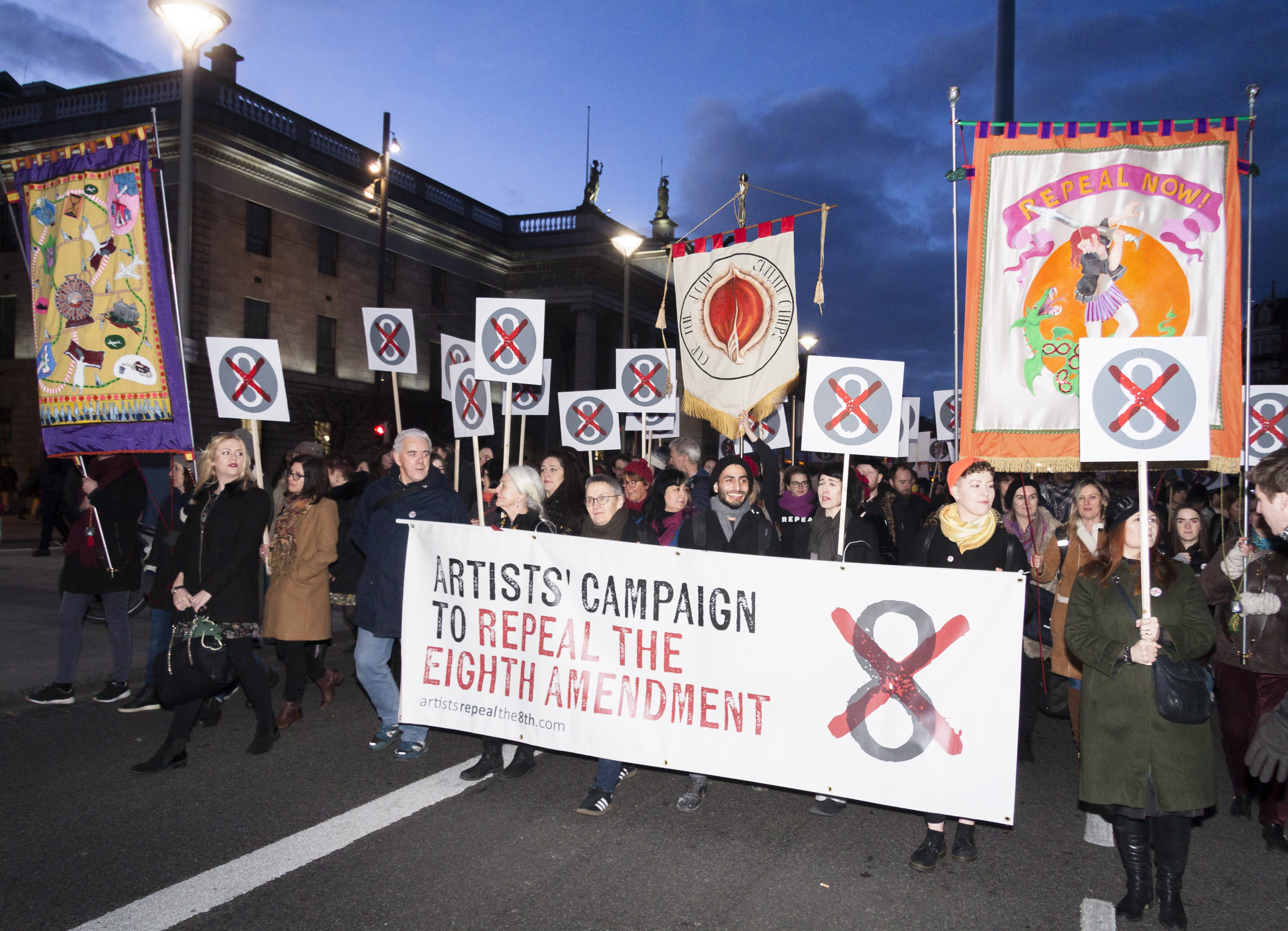 The second week of events in the Aftereffects and Untold Histories programme explored the possibilities of presenting performance via archival and digital platforms.

PERFORMANCE/DISCUSSION: A Guide to Gallery Guide
Kevin Atherton, Judit Bodor
Thursday 22nd April, 7pm - 8pm
The second week of Aftereffects and Untold Histories, Politics and Spaces of Performance since the 1990s launched with a Guide to Gallery Guide, a performance-lecture and conversation with artist Kevin Atherton around Gallery Guide, a 'virtual reality' performance that aimed at challenging attitudes around contemporary art and emerging technology at the end of the last millennium.
Atherton revisited Gallery Guide in the current virtual reality context of Zoom, engaging in a type of 'double-performance' to explore the contemporary relevance of the artwork. Following the performance-lecture, Atherton was joined by Judit Bodor to discuss the complex material identity and history of the artwork and the challenges regarding its future preservation and curation.
About the speakers:
Kevin Atherton ↓
Kevin Atherton was born in the Isle of Man. After graduating from the BA Fine Art course at Leeds Polytechnic in 1972, he went on to become a part of the pioneering generation of artists in the UK who developed performance and video art in the nineteen-seventies. Having been a Principal Lecturer in Fine Art at Chelsea College of Art, where he was also Project Leader of the 'Virtual Reality as a Fine Art Medium Research Project', Atherton moved to Ireland in 1999 to become the first Head of Fine Art Media at the National College of Art and Design. He has exhibited and performed throughout the world including at the Museum of Contemporary Art San Francisco, Tate Britain, and the Museum of Modern Art Vienna.
Judit Bodor ↓
Judit Bodor is a curator, educator and researcher and currently Baxter Fellow in Curatorial Practice at the University of Dundee, with a PhD in Theatre, Film and Television Studies from Aberystwyth University. She writes about international histories and practices of post 1960s time-based art and her practice-led research explores how curatorial processes support and affect the legacies of these practices within and beyond collections. She works directly with artists, curators, archivists and conservators to encourage interdisciplinary conversations and develop collaborative projects, including a forthcoming workshop-led co-research 'What is a Living Archive? Curating the Unruly Materiality of Contemporary Art'.

DISCUSSION: The Making of an Archive
Cecily Brennan, Sarah Glennie, Donna Romano
Friday 23rd April, 4pm - 5pm
The Artists' Campaign to Repeal the Eighth Amendment was established in 2015 by Cecily Brennan, Alice Maher, Eithne Jordan, and Paula Meehan. The campaign began online inviting fellow artists, actors, musicians and writers to sign a statement calling for a repeal of the Eighth Amendment of the Constitution of Ireland (Article 40.3.3). This amendment gave effect to the Irish State's ban on abortions. The campaign went on to organise events, exhibitions and talks, raising awareness of Ireland's restrictive reproductive laws nationally and internationally. The group is an inspirational example of the power of using culture to canvas for societal change.
The National Irish Visual Arts Library (NIVAL) has recently acquired the archive of the Artists' Campaign to Repeal the Eighth Amendment. To mark the occasion, Cecily Brennan was in conversation with Donna Romano, Head Librarian of the Edward Murphy Library and NIVAL, chaired by NCAD Director Sarah Glennie, discussing key artefacts from the archive.
Cecily Brennan ↓
Cecily Brennan lives and works in Dublin and Berlin. Between 1974-78, she studied at the National College of Art and Design, Dublin. She was the Director of Project Arts Centre, Dublin (1983-86); elected member of Aosdána (1991); Chairperson of the Visual Arts Committee, Dept of Foreign Affairs, Ireland (1993-97) and member of the Arts and Cultural Advisory Committee Dublin City Council (2013-17). She has shown widely nationally and internationally and her work is in numerous collections, including the Irish Museum of Modern Art and the Arts Council of Ireland. She has a forthcoming solo show at Taylor Galleries Dublin of large-scale painting and film work. Detailed information can be found at www.cecilybrennan.com.
In 2015, Cecily Brennan started the Artists' Campaign to Repeal the Eighth Amendment with Alice Maher, Eithne Jordan and Paula Meehan. The campaign was wound up in 2019 after the successful repeal of the 8th Amendment and its replacement in the constitution by the 36th Amendment. She has participated on behalf of The Artists' Campaign to Repeal the Eighth Amendment in: The Human Heart, Graphic Studio Gallery Dublin (2019); a talk at the Centre Culturel Irlandais Paris on the development and history of the Artists' Campaign to Repeal the Eighth Amendment; an illustrated talk on the artists' campaign Elliptical Affinities. Irish women artists and the Politics of the Body. 1984 to the present (2019); The Artists' Campaign to Repeal the Eighth Amendment, Repeal! procession and exhibition at EVA Limerick 2018; and Activism for Social and Political Change, a panel discussion at Rua Red exploring the role of activism in social and political change. She curated WITNESS 4, compilations of readings of women's stories describing their experiences as a result of the Eighth Amendment, which was shown in visual arts venues around Ireland.
Sarah Glennie ↓
Professor Sarah Glennie is Director of the National College of Art and Design in Dublin, Ireland.
She is a distinguished leader in the arts in Ireland and internationally, working professionally in the cultural realm for twenty years, with extensive experience of directing and working in a number of public cultural institutions in both Ireland and Britain.
Prior to NCAD she was Director of The Irish Museum of Modern Art, Dublin (2012-2015) and previously as Director of the Irish Film Institute (IFI) (2008-2012), where she oversaw a major redevelopment programme. At both organisations she developed new programmatic and organisational strategies that led to significant audience growth and greater financial sustainability. Among other roles, she was also Artistic Director of the Model Arts and Niland Gallery in Sligo (2005-2008), Commissioner of Ireland's participation in the 51st Venice Biennale in 2005 and Curator with the Henry Moore Foundation Contemporary Project where she curated many other notable visual art projects, both in Ireland and internationally, including Romantic Detachment at PSI MOMA in 2004 and Stopover at the Venice Biennale in 2003. Her curatorial experience includes exhibitions and projects by Olafur Eliasson, Dorothy Cross, Paul McCarthy, Duncan Campbell, Jaki Irvine, Tacita Dean and Isabel Nolan amongst many others. In 2018 she was awarded an Honorary Doctorate of Letters by the University of Bristol in recognition of her contribution to the arts.
The National College of Art and Design offers the largest range of Art and Design degrees in Ireland at undergraduate and postgraduate level, and is the only Irish university institution specialising in Art and Design.
Donna Romano ↓
Donna Romano holds an MLIS from University College Dublin and an MA in History of Art from the City University of New York (CUNY). She has worked in the arts and education sectors for 25+ years in libraries, museums and in academia including, in New York: The Museum of Modern Art, The Museum of the American Indian, Queens County Public Libraries, Queens College CUNY; and in Dublin: City Arts Centre, Project Arts Centre, NIVAL: National Irish Visual Arts Library and, since 2013, as Head Librarian at the National College of Art and Design.

NIVAL ARCHIVAL SELECTION
This week's selection from NIVAL, curated by Jennifer Fitzgibbon, highlights how artists can be shapers of their own archive through looking at processes of keeping, storing, annotating, filing and preserving for the future. It includes a selection of images from the Archive of the Artists' Campaign to Repeal the Eighth Amendment that reflect on themes of legacy and process.
About NIVAL: ↓
The National Irish Visual Arts Library (NIVAL) is a public research resource dedicated to the documentation of 20th and 21st century Irish visual art and design. NIVAL collects, stores and makes accessible for research an unparalleled collection of documentation about Irish art in all media. NIVAL's performance art collections consist of files on artists, subjects and venues as well as Special Collections on artists such as Brian Connolly and organisations such as Women Artists Action Group and Temple Bar Gallery & Studios.
Housed in NCAD and resourced through a strategic partnership between NCAD and The Arts Council, NIVAL is committed to making our collections accessible to everyone for exploration, education and research. NIVAL sustains its collections through active collaboration with artists, designers and cultural organisations. Its collection policy includes Irish visual art from the whole island as well as Irish art abroad and non-Irish artists working in Ireland. Information is acquired on artists, designers, galleries, arts organisations and institutions, critics and other related subjects. The collection contains documentary material in all formats including books, catalogues, videos, slides, artists' papers and ephemera in print and digital format and is central to NCAD's commitment to supporting new thinking and research in the fields of contemporary art and design.